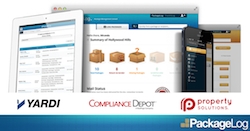 Orlando, FL, August 20, 2014 --(
PR.com
)-- A major announcement for apartment property managers who want to spend less time dealing with package delivery: PackageLog™ (powered by Logware™ announces its ability to seamlessly communicate with Yardi® (yardi.com), a leading property management software provider. This integration allows resident information to be shared between Yardi and PackageLog™, removing the need to transfer information manually.
This automatic exchange of information between systems ensures that PackageLog has the most accurate information especially for move-ins/move-outs, effectively ending the "Where's my package?" emails and phone calls. This automation optimizes the efficiency of PackageLog™, which equates to a savings of up to 80% in time spent on packages versus traditional methods.
According to Gustavo David Ortiz, Director of Software Operations, "This is critical for property managers, because it allows them the ability to use a highly efficient operational tool without the need to manage a separate database of information. PackageLog™ does it all for them."
PackageLog™ is also an effective marketing tool designed to enhance relationships. It allows property managers to easily deliver marketing messages through email and text message while alerting the resident of the arrival of an anticipated delivery; on average four marketing "touches" by text message and email for every package a resident receives. "Since residents are interested in the alerts about their inbound package(s), adding marketing messages is a logical place to include that type of information," says Craig Meddin, Logware™ CEO.
About Logware™
Logware™ is the software division of The Postal Solutions Companies located in downtown Orlando, Florida. Postal Solutions has a 15-year history of providing mail and package delivery management services to the multifamily industry throughout the United States.
TrackItLog™ (www.trackitlog.com), a sister software to PackageLog™ also fully integrates with Yardi®. TrackItLog™ is designed to track property assets and inventory from lease expirations and parking spots, to appliances and equipment.
For for information visit
www.logware.com/packagelog