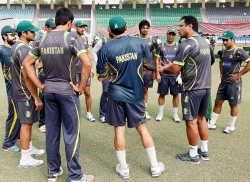 Lahore, Pakistan, August 22, 2014 --(
PR.com
)-- Cricket is certainly one of Pakistan, India and South Asia's favorite sports and no website provides better local and international coverage than
Cricket.com.pk
in Pakistan, the country's only sports portal specializing exclusive in cricket content. The site is happy to announce in just three years they've received wide praise and millions of views for their winning combination of news, scores and commentary in the country; making it a hit after only its 3rd anniversary this year on Pakistan's Independence day on 14th August. The site itself is an initiative of
Onepakistan.com.pk
, a popular web portal in Pakistan started by a group of students in early 2009.
Bringing up the subject of cricket in Pakistan, India and other parts of South Asia, is almost certain to inspire a passionate response. The sport is truly loved by rich and poor alike in this part of the world and staying up to date on the latest news and views is an absolute must. Enter Cricket.com.pk, a dynamic website that has quickly established themselves as an absolute authority on the Pakistani and Indian cricket scene to the rave reviews of their ever-growing legion of fans. The website is seen a great alternative to ESPNCricinfo in the country. With millions of visitors in just three years, the surprise success has moved quickly from strength to strength making it one of its kind sports portal in the country.
"We're passionate about cricket and our writers and reporters come from Pakistan, India and England so there's no way anyone's delivering more accurate or authentic local or international cricket news than our staff," commented Ali Sadiq a spokesperson from the website. "All this has combined to make our site so popular. We plan on continuing to deliver the same quality and quantity of coverage that's helped us earn such a great reputation – and more!"
Cricket.com.pk, focuses on live scores, commentary, and the latest cricket news delivered by the website's reporters both locally, nationally and internationally. After the great success and feedback from visitors, Cricket.com.pk is now also cooperating with AFP for its sports content delivering match reports, reviews and news.
This solid platform of coverage has led to many milestones being met since the launch of the website in 2011. Some highlights have been: Hitting an all time high in views during the T20 World Cup in April 2014, which including breaking the top 4000 websites in the world according to Alexa at the time; and being responsible for the IPL coverage in Pakistan, which drew a huge number of visitors to the site, from Pakistan, India and the Pakistani and Indian communities world-wide including Europe and America. Its official Facebook page is just shy of a million mark with thousands fans joining on daily basis.
According to the company, plans for the immediate future include covering every single cricket tournament, with an especial focus on international events, and getting ready for the coming World Cup to be held in Australia and New Zealand. The site plans on a long list of contests and awards, many of which will be held on their very active and exciting social media pages, like Facebook and Twitter.
Clearly there's no limit to how far Cricket.com.pk can grow as long as the sport continues to be a love and obsession for so many people. A high quality, expertly executed cricket site is just what so many are looking for. Their feedback certainly backs this continued growth.
Jamal Khan, a cricket enthusiast from the USA among many, recently remarked, "I'm a Pakistani who lives in the United States, and am a regular visitor of the website. I couldn't be more grateful to see a Pakistani-based startup specializing in providing ball-by-ball updates, a great initiative for cricket lovers - Fully recommended!"