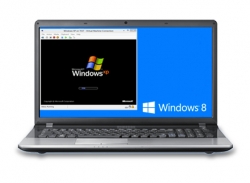 Irvine, CA, August 25, 2014 --(
PR.com
)-- FarStone Technology, known for their refined Total Backup and Recovery® software, has released VirtualXP solution for Windows XP and Windows 2003 Server. "VirtualXP will ensure that any XP/2003 system and their applications can continue to be used, preserved, and backup on a new Windows system, such as Windows 8," said Peter Lin, product manager of FarStone.
Microsoft is phasing out Windows XP and Windows 2003 support, meaning soon there will be no more future updates and maintenance for these systems. "In order to help users keeping their Windows XP systems and all its applications for future environments, FarStone presents VirtualXP, a XP and Windows 2003 converter," Peter Lin stated. "VirtualXP will convert a Windows XP machine to a Virtual HD image (VHD) that can be loaded and run on Windows operating systems, such as Windows 8, 7, 2008, and 2012."
Key Features:
1. Convert Windows XP to virtual machine
2. Free for non-commercial use
3. Allows you to continue running XP and its applications on Windows 8
4. VirtualXP can convert Windows XP and 2003 systems
Pricing and availability:
FarStone VirtualXP is free for non-commercial use. Non-commercial users can get free license(s) from FarStone VirtualXP product page (http://www.farstone.com/software/VirtualXP.php). Standard pricing applies for business and other commercial licenses.
About FarStone Technology, Inc.
Founded in 1993, FarStone Technology develops PC backup, data recovery, hard disk imaging, and virtual CD/DVD software. FarStone is an ISO 9001 certified software publisher holding multiple technology patents. Headquartered in Irvine, CA, the company licenses its PC and server backup software to corporations, small businesses, educational institutions and consumers worldwide. FarStone global technology partners include Intel, AOL, Asus, Phoenix Technologies, Trend Micro, and MSI.