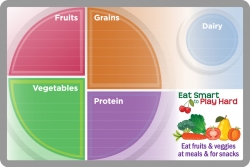 Beverly Hills, CA, August 27, 2014 --(
PR.com
)-- Epicure Digital, a leader in MyPlate signage solutions for K12 school food services introduces new selection of "Eat Fruits and Veggies"
http://www.myplatemenuboards.com/eat-fruits-and-veggies.html
and "Special of the Day" style dry erase menu boards to help schools increase their school lunch participation rate, following similar success in restaurants.
Restaurants have found, as supported by multiple studies, that creative, informative and professionally designed signage in front of customers and students, highlighting healthy food options and "Specials of the Day" led to increased participation and sale revenues.
"There is no doubt that school nutrition has reached a significant milestone," explained Harvey Friedman, President of Epicure Digital. "When schools open their doors this school year - any food served in any school nationwide will be healthy. And schools should promote this to students and parents. Everyone that led this revolution and participated in the implementation process deserves a big thank you."
What's next?
USDA research indicates that children who participate in the National School Lunch Program have superior nutritional intakes compared to those who bring lunch from home or otherwise do not participate.
Out of over 55 million K12 students in the US, the average daily school lunch participation is about 30 million and the daily school breakfast participation is about 13 million. Supper, after school lunch and summer feeding programs are really doing their first steps. The potential for school food services to increase participation is huge.
Increased participation, revenues and profits is the main challenge of the over 600,000 restaurants in the USA. The new Epicure "Eat Fruits and Veggies" and "Special of the Day" style dry erase menu boards have been designed to significantly increase School Lunch program participation rates.
The priority for anyone involved in the School Lunch program, including parents, is to make sure students participate in the program rather than providing students with alternative means to eat food during the school day that has been clearly identified by the USDA's research as having inferior nutritional intakes.
The new Epicure Digital and Dry Erase Menu Board solutions are creative and effective nutritional labeling signage options easily and quickly, in less than a minute, to update daily changes on menu boards in school cafeterias, saving the school time and money.
Epicure Digital "MyPlate on Wheels" Dry Erase Boards and Epicure Digital "MyPlate A-Frame on Wheels" http://www.myplatemenuboards.com/myplate-on-wheels.html are affordable, and simple to implement option for fulfilling the USDA's signage regulation for indoor and outdoor use. School can mount lunch and breakfast menu boards back-to-back for use at both meals. This way students see both the breakfast and lunch menus when in the cafeteria, and because the systems are movable they can be moved to promote participation wherever students congregate.
The Epicure Menu Board product line includes:
The newly introduced "MyPlate Today" Dry Erase Menu Boards that can help school food services to update their menu selections in an easy and efficient way and without the need to rewrite their menus daily. Just add a check mark to menu items served today, and you are done with changing your menu board daily.
MyPlate Dry Erase Menu Boards with transparent reusable labels. As an option, you can apply to each Epicure My Plate Dry Erase Menu Board transparent reusable labels for each MyPlate food group (Protein, Grains, Fruits, Vegetables, and Dairy). Labels come on 8.5 x 11" sheets for quick and easy printing on a school's standard in-house printers. It will take less than a minute to update your menu boards daily.
MyPlate Dry Erase Boards with Magnetic Strips and Magnetic Blocks is a simple system to save time and avoid handwriting and spelling errors. Again, it will take less than a minute to update your menu boards daily.
MyPlate Dry Erase Boards with Colored Frames.
MyPlate Dry Erase Boards on Wheels: http://www.myplatemenuboards.com/myplate-on-wheels.html
MyPlate Front of Line Dry Erase Boards with suction cups and free-standing models: http://www.myplatemenuboards.com/front-of-line.html
The new Smart Snacks A-La-Carte Dry Erase Boards.
Epicure Digital Menu Boards with NutriLive Nutritional Menu Labeling and creative ways to add Smart Snacks A-La-Carte information
Any Epicure dry erase menu board can use any of Epicure dray erase systems, such as: "My Plate Today," Magnetic Strips, Magnetic Blocks, Transparent reusable clings, Colored Frames, On Wheels, Front of the Line and digital menu boards.
Epicure Digital clients include K-12 schools, colleges and universities, hospitals, independent and chain restaurants, contract food service companies, business & industry, and cinemas and casinos among others.
For more information, contact:
Tommy Orpaz
310-652-8246 x 3
torpaz(at)epicuredigital(dot)com