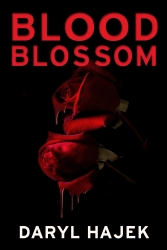 Palmdale, CA, August 28, 2014 --(
PR.com
)-- Blood Blossom: Deaf Author Breaks Literary Barriers to Prosper with Mainstream Novel
Daryl Hajek's 'Blood Blossom' twists drama, suspense and dark humor together into a fictional knot that is garnering praise from coast to coast. This novel doesn't just break literary convention, but as a published deaf author, Hajek is also proving that no dream is impossible.
Daryl Hajek is no ordinary author. A reviewer of his first novel perhaps says it best; "Never let it be said that anyone who may not have all 5 senses intact can't write an amazing story!!" Hajek is also rapidly proving that a debut novel is also an opportunity to rival a genre's bestsellers.
'Blood Blossom' is wide in its reach, melding multiple themes including familial unrest, bold revenge and how someone's sadistic sense of humor can transcend a simple joke to become anything but a laughing matter.
Synopsis:
After having been separated for twenty-two years, Vivian wants to reestablish ties with her younger sister, Christine. Instead, she is met with hostility and resistance. Christine wants one thing and one thing only—revenge. Fueled by rage and having a sadistic sense of humor, Christine will stop at nothing to go after their mysterious mother, Rose. No one better stand in Christine's way—or else.
Julia Windom, a wealthy woman with selfish motives, concocts plot after plot to ensure her personal goal is achieved.
They all become embroiled in a battle of wits to stay one step ahead of the other. Lives are further complicated in a whirlpool of diverse events as they occur at breakneck speed. Overwhelming crises develop, strengths and weaknesses are tested, truths overcome lies, and shocking secrets are revealed that could push some to the brink of insanity.
"The narrative spans four countries as a battle of wits, tenacity and ultimately evil plays out with gripping aplomb," explains Hajek, who is working diligently at his next title. "From the present day to flashbacks of the past, readers will become acutely aware of determination's true power and ability to smash through what should be the strongest of familial bonds."
Continuing, "But perhaps the biggest surprise of all is that I am Deaf. My message is simple – embrace your heightened senses and be proud of the gifts you have. There's a market out there for everyone and I'm proof that getting published is possible."
Readers have flocked in their droves to leave positive reviews for the novel. Duane E. Cripe comments, "This book is much more than just screamingly hilarious -- it's intelligent as well as entertaining. It'll captivate readers with the author's rich details and keep them mesmerized all the way to the very last page."
Ken adds, "So glad to see this book finally become a reality at last when Daryl Hajek has so much to contribute toward the whole world w/ his writing talents along w/ other hidden talents. Knowing him, his future novels promise to be thrilling as well as this one if not even more exciting."
A.J. Westbrook praises the author's ability to overcome adversity, writing, "I have known Daryl for years and have always been impressed with his tenacity, imagination, determination and skills. His hearing may not be 100%, but this book sure as hell is. The real deal!!"
Brian Hogan says, "This book is hard to put down. Once you crack it open, it grabs you by the jugular and doesn't let go. It's a fun read (and a fun ride) . . ."
Lance Mann proclaims, "Daryl Hajek is a pioneer who will soar far and wide."
'Blood Blossom' is available now at Amazon.com and BN.com
About the Author:
Daryl Hajek lives in Los Angeles, California. He is currently at work on his next novel.
Contact:
Daryl Hajek
darylhajek@gmail.com