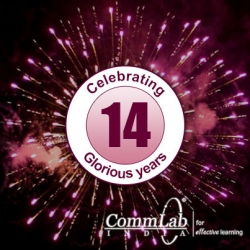 Hyderabad, India, September 03, 2014 --(
PR.com
)-- CommLab India is celebrating 14 years of providing excellent eLearning development services to its global customers this September. E-learning was a nascent industry, in 2000, when CommLab served its first client with an eLearning course across the Atlantic. Today, CommLab India provides its services to more than 100 customers across 32 countries.
Speaking on the occasion, Mr. RK Prasad, Co-Founder and CEO of CommLab shares that CommLab continues to re-invent itself with changing training demands and technology innovations. "A lot has changed since 2000 in the way organizations train their employees. Organizations can no longer wait for months to launch a course. They need utilitarian courses developed in about 4-6 weeks. This requires technical excellence as well as sound project management capabilities."
"I am happy to state that CommLab is equipped to meet these current demands and shares its experiences and knowledge through its website," he added.
Over the years, CommLab has consolidated its position as an eLearning development company providing solutions such as:
1. Creating highly effective eLearning courses out of existing instructor-led training material
2. Converting PowerPoint slides and readymade storyboards into eLearning course rapidly
3. Making existing courses mobile compatible by converting them to HTML5 format
4. Translating online courses into multiple languages
5. Setting up and customizing Learning Management Systems (LMSs) to host online courses
CommLab has kept pace with changing technology and tools by investing in the knowledge and skill development of its employees. It began with just 3 employees in 2000, but now has a team of over 120 professionals comprising of instructional designers and multimedia developers, who are adept in the use of the latest eLearning development tools such as Articulate Storyline, Adobe Captivate, Lectora Inspire to develop engaging and interactive eLearning courses.
Co-founder and COO Dr. Ayesha Habeeb Omer said, "As we at CommLab India kick off our 14th anniversary celebrations, CommLab has announced a special offer to organizations who wish to convert their old legacy eLearning courses into HMTL 5 format." More details can be obtained from their website at:
http://www.commlabindia.com/elearning-resources/elearning-prototype-form.php
About CommLab India
CommLab India LLP is a leading eLearning services company developing highly interactive online learning courses for organizations including start-up companies and large enterprises since 2000. It has a full-fledged team of 120 professionals consisting of instructional designers, courseware developers and learning technologists.
CommLab's learning solutions include eLearning Development, Translation and Localization of eLearning Courses, Mobile Learning Solutions, LMS Customization and Support. It is known for its excellent customer service and quality learning solutions.