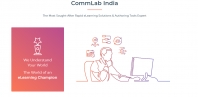 CommLab India is the most sought-after global leader for rapid eLearning solutions. With our formidable authoring tools expertise and decades of experience in corporate training and instructional design, we are your most competent and reliable partners to develop rapid eLearning solutions.

Started in 2000, CommLab India has been ranked among the top 10 e-learning development companies in the world for three successive years. The company has successfully designed and developed hundreds of eLearning projects for more than 100 International customers in 30+ countries.

Rapid eLearning Solutions for Speed, Scale and Value

- ILT to eLearning Curriculums: We convert your Instructor-led Training (ILT) material – PowerPoint decks, Facilitator guides and Participant handouts –into instructionally sound, visually appealing, engaging and effective eLearning curriculums. We also convert the same content into different digital formats like micro learning, mobile learning nuggets, just-in-time job aids and performance support learning assets.

We equip you to accompany your learners through their learning journey, ensuring they beat the "forgetting curve" and get the best out of your training investment.

- Legacy Course Conversions: We rejuvenate your legacy courses (created in Flash or any other authoring tool) and make them compatible with multiple devices and browsers. Even if you do not have source files, we can still retrieve their content and digital assets and publish the courses to HTML5 format using the latest authoring tools.

We can give your online courses a fresh lease of life by recording, republishing, rebuilding or redesigning, according to your need and budget. By converting a substantial number of old courses to newer, multi-device formats, you get the best of your investment.

- eLearning Translations: We can translate your English language master eLearning course into 35 international languages – both text and audio. We not only translate, we also localize – taking care of colors, images, instructions and navigation.

We also re-integrate the course content and graphic assets together and publish them using the authoring tool of your choice. We use our huge pool of translation professionals experienced in various domains and industry verticals to turn out translated courses accurately and quickly.

Areas of Expertise

- Robust Instructional Design: Rapid eLearning's instructional design is fast and right. It is utilitarian, appropriate, and highly effective. It is performance based, with objectives, content and assessments perfectly aligned with adequate interaction and engagement.

- eLearning Authoring Tools: Our developers are adept in the newest authoring tools such as Articulate Storyline 360 and Rise, Adobe Captivate, Lectora Online and iSpring. We can bring your online training to life through simulations, interactivity and engagement using tools.

- Project Management: From understanding your learning needs and analyzing your content, to finalizing the instructional strategy and developing the course, we follow an agile process that involves you, every step of the way.

Areas of Application

- Sell More: Empower your sales force through rapid eLearning solutions like micro learning, mobile learning and digital performance support on your products and selling methodologies.

- Rapid Proficiency in New Software: Train employees on enterprise software through rapid eLearning solutions, as you can pursue course development in tandem with software customization. Ensure your employees are ready to use the software by launch day.

- Supercharge Onboarding: Blend classroom, eLearning and mobile learning through rapid eLearning to provide an efficient, engaging and consistent onboarding process for your global, multilingual workforce.

- Stay Compliant: Avoid dense and boring content through scenario-based or story-telling instructional strategies via rapid eLearning that enable your learners to understand and apply regulatory concepts quickly.

- Stay Safe: The conceptual and knowledge sections of safety training can be taught via eLearning using scenarios, videos and case studies.
Status

Private Company

Founded

2000

# Employees

200
Company History

CommLab India was founded by RK Prasad and Dr. Ayesha Habeeb Omer in the year 2000 with its head office in Hyderabad, India.

Today CommLab India's services span ILT to eLearning curriculum development, Legacy course conversions and eLearning translations. The company has 100+ global clients in 30 countries.

With more than 100 employees across instructional design, visual design, authoring tool experts, project management, technology and more, we bring your training initiatives to life.