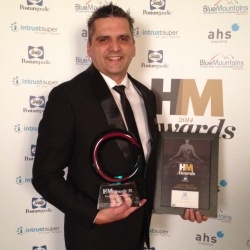 Rarotonga, Cook Islands, September 06, 2014 --(
PR.com
)-- Pacific Resort Hotel Group (PRHG) is proud to announce that that Deputy CEO Marcus Niszow has been awarded 'South Pacific General Manager of the Year' at the 2014 HM Awards for Hotel & Accommodation Excellence. The winners of the 2014 awards program were revealed last night during the HM Awards Gala dinner in Sydney, with over 500 guests gathered to celebrate excellence in all areas of the accommodation industry across Australasia.
"I am delighted that our Deputy CEO Marcus Niszow has been recognised at the prestigious HM Awards," says PRHG CEO Greg Stanaway. "Marcus has worked tirelessly over the past decade to help position our resorts as market leaders. He has built an enviable reputation as astute strategic hotel management specialist with an unparalleled understanding of the regional South Pacific environment helping shape PRHG's strategic vision and roadmap to success. We are very proud that he has deservedly been acknowledged for his outstanding contribution as an industry professional."
There was further recognition on the night for PRHG when Pacific Resort Rarotonga, Te Manava Luxury Villas & Spa and Pacific Resort Aitutaki were recognised among the 12 finalists for the 'South Pacific Property of the Year' category, with Pacific Resort Aitutaki the Cook Islands foremost luxury resort awarded a high commendation.
The 12th annual HM Awards acknowledge, reward and celebrate the enormous achievements which exemplify excellence in performance and service within the hospitality industry across Australia, New Zealand and the South Pacific. For a full list of Award winners see
www.hmawards.com.au
Notes to Editors
About Pacific Resort Hotel Group
Pacific Resort Hotel Group (PRHG) represents a distinctive collection of world class South Pacific hotels. PRHG is a boutique hotel and resort management company with an enviable reputation for resort design, development, management and marketing. PRHG properties offer premium and personable holiday experiences that leave guests feeling rejuvenated, inspired and wanting to share their experience with others. We are a passionate team dedicated to developing boutique island resort and hotel experiences with a focus on local culture, architecture and landscaping. For more information visit
www.pacificresort.com
About Pacific Resort Aitutaki
Secluded Luxury…Like a siren of the Pacific, Aitutaki, Cook Islands, beckons
you. This magical place, full of South Seas idyll and romance, is home to Pacific Resort Aitutaki, an enclave of privacy, refinement and luxury, which seduces even the most discerning traveller. Pacific Resort Aitutaki, member of the Small Luxury Hotels of the World collection, has just 27 luxurious 'absolute beachfront' bungalows, suites and villas all with their own personal, panoramic view of Aitutaki's world-famous lagoon, where every sunset majestically captures the colours of the lagoon and the ocean beyond. For more information visit
www.pacificaitutaki.com
About Pacific Resort Rarotonga
Authentic Boutique… Located in the South Pacific island nation of the Cook Islands, Pacific Resort is Rarotonga's leading full-service, authentic boutique resort situated in an unrivaled location on the glorious white sands of Muri beach. This premium boutique resort offers a perfect blend of modern comforts and traditional island hospitality. A place where simple, lazy days meet luxurious evenings. And where the friendly, gracious staff meet your every request. For more information visit
www.pacificrarotonga.com
About Te Manava Luxury Villas & Spa
The road less travelled…You're a traveller who appreciates beautiful surroundings and luxurious five star accommodation…and you also value your independence. Te Manava Luxury Villas & Spa has been designed just for you. This new Cook Islands concept in luxury accommodation gives you the freedom to personalise your own leisure experience. Set on the beautiful white sand beach of Rarotonga's stunning Muri lagoon, your private villa awaits. How you choose to use it is completely up to you. For more information visit
www.temanava.com