Fire & Bone Project Releases New Wearable Miniature Skull Replicas from Real Animals, Including Dinosaur and Dire Wolf
Fire & Bone beautiful, miniaturized animal skulls have become popular with all kinds of nature and science lovers. The team's new set of skulls launching today is guaranteed to amaze fans with the inclusion of their first skull from a real dinosaur! Game of Thrones fans will also love the chance to own a skull derived from a real Dire Wolf (now extinct)! The cast metal skulls are made to wear or display like museum pieces.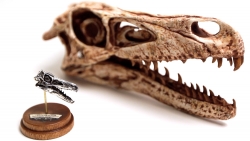 Brooklyn, NY, September 10, 2014 --(
PR.com
)-- Fire & Bone, a wildly popular project that launched on Kickstarter last year to a huge response from nature lovers, scientists, and geeks of all kinds, is back with a second full set of digitally miniaturized real animal skulls that are sure to blow some minds.
The new set includes the project's first dinosaur skull, a Dire Wolf skull for all the Game of Thrones fans (yes, the Dire Wolf was once a real animal!), and also by popular demand, miniaturized bird and primate skulls, and more.
The campaign can be viewed at fireandbone.com/kickstarter2 (without the www.).
Fire & Bone skulls are the first of their kind in the jewelry and collectibles world. Each Fire & Bone piece starts with a real animal skull, which is 3D scanned at a very high resolution. The full-size digital file is then carefully miniaturized on the computer, retaining an unprecedented amount of the original natural detail. The miniaturized skull is then 3D printed in very high resolution in wax. Finally, the Fire & Bone skull pendant and collectible is cast in bronze or silver, using a centuries-old lost-wax casting technique.
The first Fire & Bone campaign closed in January of this year and proved to be a huge success with those who backed the project. Fire & Bone co-founder Matt Kroner said, "People tell us all the time on social media or email that they wear their Fire & Bone skull almost every day. Because our pieces come from real skulls, you feel very connected to the animal. It's a really special feeling."
The team is also really proud that they raised a bunch of money and fulfilled all of their campaign promises on time.
What's New in This Campaign?
For their second campaign, the Fire & Bone team has made some improvements in their production process to retain even more natural detail than before. "Anyone who has seen our original skulls will be amazed that the new ones look even better. We've adjusted our polishing technique so you can appreciate even more of the animal's teeth, horns, cranial structure, etc.," noted Fire & Bone co-founder Jason Bakutis.
"It was really important to us to listen to what our fans wanted," said Fire & Bone co-founder Chris Boynton. "They really wanted a dinosaur, and we did too, so we spent a lot of time finding the perfect skull."
Another special skull in the set is the Dire Wolf skull. The animal was made famous by the TV show Game of Thrones, and the A Song of Ice and Fire book series. Most people don't realize that the Dire Wolf was a real animal, and will be excited to find out they can now own a mini replica of its skull, including an articulated lower jaw!
This time around, fans can find skulls from these cool animals.
-- Velociraptor (extinct!)
-- Dire Wolf (extinct!)
-- Red-Tailed Hawk
-- Merino Ram
-- Northern Owl Monkey
-- Great Horned Owl
-- American Bison
Also in this campaign, the very popular Gray Wolf skull from the original series has been turned into a set of cufflinks.
The campaign will run for a total of 35 days beginning Wednesday, September 10, 2014.
About the Team
Fire & Bone co-founders Jason Bakutis, Chris Boynton, and Matt Kroner met as product designers at a 3D printer manufacturing company. Their work was featured heavily in retail, stores, trade shows (including Maker Fair), tech-blogs, and in the Museum of Modern Art's Destination: NYC collection.
Jason Bakutis received a BFA in computer art from the School of Visual Arts, and has since served as Adjunct Professor of 3D animation at Quinnipiac University, and held public demonstrations of digital sculpting techniques at New York's Metropolitan Museum of Art. Primarily a sculptor and jewelry designer, Jason has worked on several feature films as a special FX makeup artist.
Matt Kroner studied Industrial Design at the University of Cincinnati. He is an expert in designing products for manufacturing using rapid prototyping technologies like 3D printing, and he has used his skills as a toy designer at Hasbro and MakerBot. Apart from product design, Matt loves science, robots, and of course, Legos.
Chris Boynton has a BFA in Film Production from the University of Colorado. A self-taught modeler and designer, he is the creator of several jewelry lines. He is currently working on a new line of housewares and lighting. Chris also has a life-long interest in biology, including formal study at Columbia University.
Any requests for information can be forwarded to Andrew Pelkey at andrew.pelkey@gmail.com.
Contact
LaunchPack
Andrew Pelkey
678-294-1729

Contact