Massachusetts Author, Michael A. Coller, Revives the "Dime Novel" with the Release of His New Book, "Bruno Johnson - Private Investigator"
Massachusetts Author and Private Investigator, Michael A. Coller releases his new book, "Bruno Johnson - Private Investigator" as a modern-day "dime novel." The witty and razor sharp main character has a high level of street-wise intellect. This book maintains the integrity of the dime novel that originated in the early 1800's.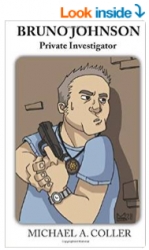 Peabody, MA, September 12, 2014 --(
PR.com
)-- Massachusetts Author and Private Investigator, Michael A. Coller, had a dream of recreating a "dime novel" that was a popular form of genre in America during the 1800's. His vision was to create a witty, sarcastic and street wise private investigator named Bruno Johnson. His main character's mission is to identify fakes, frauds, villains and bring them to justice.
According to Robert McNamara, a 19th Century History Expert, "A 'dime novel' was an inexpensive and generally sensational tale of adventure sold as popular entertainment which often featured tales of explorers, soldiers, detectives, or Indian fighters. Critics of dime novels often denounced them as immoral, perhaps because of violent content. The books themselves actually tended to reinforce conventional values of the time such as patriotism, bravery, self-reliance, and American nationalism."
Coller's Bruno Johnson does just that. "Bruno Johnson - Private Investigator" is a light-hearted adventure peering into the daily life of this gruff and dedicated Boston Private Eye. Bruno is hard-nosed, no nonsense and without a doubt, outspoken. He speaks what's on his mind whether one wants to hear it or not.
Bruno Johnson may be the author's "alter ego." In fact, the color illustration on the front cover of the book has a eerie resemblance to Michael Coller. The author describes his main character as "No-nonsense but charming. One must prove to him you are worthy of his friendship. If you do, you will have a friend for life. However, dare to cross him and he will strike faster than a rattlesnake. Guys want to hang out with Bruno Johnson and women want to date him. He is a fusion Clark Gable, Brad Pitt, Columbo, Clint Eastwood and sprinkled with a bit of Dean Martin. Bruno is the toughest guy I know."
On September 8th, 2014, Michael Coller hand-delivered his book, "Bruno Johnson - Private Investigator," to the Library of Congress in Washington, DC, while celebrating his birthday. The enjoyment continued as Coller watched Bruno Johnson achieve bestseller status on Amazon.com the next day.
Author Michael A. Coller states, "I invite you into the world of Bruno Johnson. Every story has a degree of truth and reality contained within the pages. This book exudes courage, self-reliance and fierce pompousness. Only a fool would say otherwise!"
"Bruno Johnson - Private Investigator" is available in paperback or on Kindle at
Amazon.com
or BrunoJohnson.com.
Michael A. Coller brings more than 20 years experience as a leader in corporate security, having worked for several major corporations, managing commercial firearm guidelines and background inquiries. His specialty and passion is Criminal Investigations. Michael A. Coller is the author of the CD, "7 Signs of Lying." He offers personal and professional coaching in the areas of security, loss prevention, private investigation and lie detection. Michael is a Private Investigator and Constable within Essex County Massachusetts.
For more information please visit
www.BrunoJohnson.com
.
Contact
MAC Investigations
Michael A. Coller
978-375-9651
www.michaelcoller.com

Contact