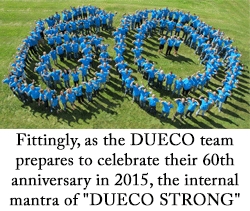 Waukesha, WI, September 15, 2014 --(
PR.com
)-- DUECO, the oldest and largest independent final-stage manufacturer of Terex aerial buckets and digger derricks in the nation, has been recognized with a Healthiest Employer Award by the Milwaukee Business Journal.
Winners were selected by the Business Journal with the assistance of Healthiest Employers LLC, of Indianapolis, which required nominees to complete a 75-question survey. Healthiest Employers LLC then ran the survey answers through a proprietary system that evaluated the companies' wellness programs as well as several other factors. Those with the highest scores were selected.
Judie Taylor, President & CEO commented, "We are excited to be recognized for our multi-faceted wellness programming. As a company celebrating our 60th anniversary in 2015, we care about our employees and their families and support them with wellness programming that helps them make choices that will help optimize and protect their health for a lifetime. While healthy employees certainly contribute to a healthy business, we've also found its just plain fun to work toward good health together."
The winners will be honored at an awards luncheon on Oct. 31 in Milwaukee and will be featured in the Milwaukee Business Journal's Oct. 31 issue.
About DUECO, Inc.
DUECO is a women-owned business and the oldest and largest independent provider of Terex bucket trucks, digger derricks, and cranes for the utility market in the nation. Additionally, DUECO manufactures custom utility truck bodies; distributes mini derricks/aerial lifts, stringing equipment and trailers; and supplies tools and accessories for all truck brands. Family owned and operated since 1955, DUECO's philosophy of teamwork, integrity, and open communication with customers and employees ensures high quality equipment at the best value. With headquarters in the Metro Milwaukee area, DUECO services customers 24/7 in 17 states. To learn more, visit dueco.com or call 800-558-4004.