Local Developer Turns Burned Building Into 120-Foot Art Mural for the City of Nacogdoches
Local property owners of Three Skies No Limits gift the city with a hand painted mural by SFA students depicting the rich history of Nacogdoches.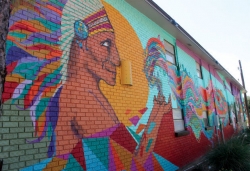 Nacogdoches, TX, September 17, 2014 --(
PR.com
)-- When local property owner Guy Moskowitz took over the abandoned and burned building on 3027 North Pecan Street in Nacogdoches almost two years ago he knew he would transform the ruins into a historic landmark.
For SFA students Daniel Baugh, Levi Smith and Santiago Escobedo, the destitute building became a beautification project that allowed them to give back to a town they love and transform a building that houses dozens of university students.
The mural on Austin Street became known as a project called "Winds of Change," shows the history of Nacogdoches through art work. The mural begins on the left with historical Nacogdoches Chief Caddo giving life to the city and finishes with multiple monuments and past and present city icons.
For Smith, a Nacogdoches native, the project allows the entire community to enjoy the artwork at all times.
"An outside mural is a way to take you to a different place and let you enjoy art without having to buy a ticket. You don't have to dress up or make a several-hour commitment to view it. People embrace it, and it becomes part of the neighborhood," Smith said.
Russian Rivers Apartments
will hold the ribbon cutting for the historic mural at 4 p.m. on Friday, Sept.19 with celebratory food, drinks, games and all-around family fun.
"Winds of Change" is not just a mural and it's not just a project. It's now an integral part of the Nacogdoches community, Escobedo said.
"When we first started on the mural, we'd have people stop by, and they were unsure about what we were doing and how this was going to affect their neighborhood. As we progressed, those same people would come by, and as they watched and interacted with us, they began to feel part of it," said Escobedo.
That is exactly what Guy Moskowitz and Three Skies No Limits aimed to do. Creativity, teamwork, and artistic innovation has allowed "Winds of Change," to be known by community members as a Nacogdoches milestone. The grand opening will celebrate with the Nacogdoches chamber of commerce, students, families, and many more at the off-campus SFA apartment complex.
With the community in full support of the monumental mural, the opening is sure to be a grand celebration. Friday, September 19th will mark a new beginning for what was once a burned abandoned building and is now a new city landmark in the form of an
off-campus SFA apartment complex.
Contact
Three Skies No Limits
Dean Moskowitz
818-916-7087
Contact Dean for media requests.

Contact