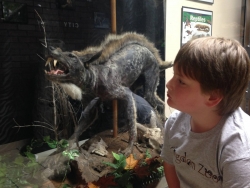 Orange, TX, September 19, 2014 --(
PR.com
)-- "Chupacabra."
Also known as the "goat sucker," this enigmatic creature was first reported in the mid-1990s in Puerto Rico, with reports spreading throughout the Southern United States.
Chupacabra reports and even videos are everywhere on social media and occasionally end up on television and in major print publications.
Now the Kingdom Zoo: Education Center located in West Orange, TX has one on display.
"My heart is to reach out to children and when speaking to them I am constantly asked about chupacabra," said founder Chester Moore.
"With that in mind I recently teamed with expert taxidermist Matt Otten of Otten Brothers Taxidermy in Boerne, TX to create a chupacabra for my forthcoming 'Nature's Myths & Mysteries' talks I will be doing at our facility and beyond."
Moore said kids are visual so he wanted something that would grab their attention and drive home the point that all wildlife reports deserve investigation. Otten's work makes that possible in a unique way.
"It was a challenging but fun project. I took a coyote form and skin and did some Internet research and also spoke a lot with Chester about what it should look like. What we have the basic coyote with mange look but the mount also has some of the looks of the odd reports out there," Otten said.
Moore said kids have already reacted strongly to the display at the Kingdom Zoo: Education Center and it has given a way to speak into their lives.
"Part of my talk on myths and mysteries speaks to the children who often feel strange or ostracized because they look different, like things other than sports or the mainstream flavor of the moment. I use the unique animals out there to drive home a point that some of the coolest creatures are different from the norm and God has a purpose and plan for their lives," he said.
Moore said he believes most of the "chupacabras" in photos are foxes and coyotes with similar mange problems.
"Take the fur away from any animal and it looks downright bizarre and that is what is going on with these chupacabra reports but it doesn't make them any less spooky," he said.
"Running into one of them on a dark trail in the middle of the night would give anyone the creeps."
For information on the Kingdom Zoo: Education Center go to www.kingdomzoo.com.