Rosie Releases "Situation Zane – "Autism Who Knew?"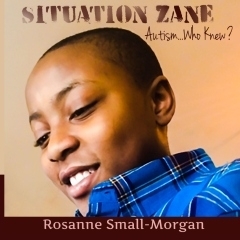 Hempstead, NY, September 22, 2014 --(
PR.com
)-- Caribbean-American Autism advocate and proud mother Rosanne Small-Morgan has released her new book, "Situation Zane – Autism who knew?" to the masses. This new book aims to spark a real conversation and open the lines of communication and respect for the families and individuals living with this disorder.
Even though it took Rosie approximately 4 months to complete "Situation Zane..." it was created over a 12 year time-span of experiences and overcoming challenges with her autistic son, Zane.
More than just a coffee table book, the book offers readers substantial information and insight into the Morgans' lives in trying to cope with getting Zane the best possible services and care. The easy and very enjoyable read covers topics such as helping the siblings of an autistic child to not feel over shadowed, issues affecting spouses and partners in an autistic household, as well as Rosie's personal tips and suggestions to combat some of the negative behaviours in the home.
"This labour of love" was primarily authored by Rosie and features a piece from her husband Chris who wrote about being a father to an autistic child and her cousin (Zane's god mother) who offered some interesting anecdotes about the energetic, high functioning 12 year old.
An avid blogger, Rosie stated that part of the motivation for the book is the many questions and comments she would receive from her social media followers regarding Zane and his escapades.
She shared, "People thought he was hilarious and sometimes I think they would forget that he was autistic due to the fact he would always have a 'Situation' with which he'd outwit us, so I thought I would compile a few stories accompanied by pictures regarding his journey and adventures throughout the years."
Regarding the book's unique title she said, "Whenever I blogged about Zane I would start it off with the title: 'Situation Zane' and end it with #autismwhoknew? Additionally, the creative trouble he would get into would always feel like a 'Situation.'"
With "Situation Zane," Rosie aspires to provide a fun yet poignant publication which would appeal to many people from different walks of life (not just the autistic community). As a native of the Caribbean, she offers a true source of support for parents of autistic children in the Caribbean Region and Diaspora as she approaches the issue of dealing with autism from her vantage point of being in a Caribbean-American family.
Rosie who is already in demand as a speaker on autism will soon work directly in those specific communities to create change for autism services and screenings for early intervention for young children ages 3 and under. In addition to building awareness, understanding and guidance re: autism, her goals with "Situation Zane" are to dispel some of the myths about the disorder and replace the shame and stigma with support and coping mechanisms for affected families.
"More than just picking up a copy, I would love the public to assist me in initiating this conversation and sharing the book with those families who may be suffering in silence. I encourage readers to simply embrace and enjoy a small snapshot of our world and how we choose to handle our daily challenges."
"Situation Zane – Autism who knew?" can be purchased on Createspace.com, Amazon US, UK and Europe, Barnes and Noble, and at book stores in North America and in the Caribbean.
To learn more about Rosie please utilize the following contacts: www.rosietalkslife.com, Email: Rosietalkslife@gmail.com, Facebook Page: Rosie Talks Autism, Relationships and Life Skills
Contact: Sonique Solutions
(E) nuconceptcc@gmail.com
Contact
Autism..who knew?
Rosanne Small-Morgan
516 236 6987
www.rosietalkslife.com
https://www.createspace.com/4969098?ref=1147694&utm_id=6026

Contact