CommLab India Launches a Comprehensive eBook on M-learning
CommLab India has released a new eBook on mobile learning (mLearning). This free resource intends to help CEOs make the best use of mLearning to impart high quality training to their workforces in an efficient, systematic and cost-effective manner.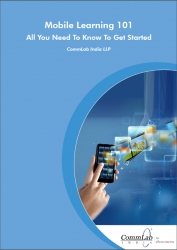 Hyderabad, India, October 01, 2014 --(
PR.com
)-- CommLab India, a leading eLearning services provider, has released a free eBook, "Mobile Learning 101- All You Need to Know to Get Started." This resource is intended for training managers and CEOs, who wish to implement mLearning in their companies. It provides comprehensive information about the:
1. Aspects to be considered before embarking on mLearning
2. Design strategies that need to be followed for creating excellent courses for the mobile
3. Integration of mLearning with other training initiatives
4. Training programs that can be delivered effectively through mLearning
It also contains the stories of organizations that are successfully utilizing the mobile device to deliver top-notch training.
Speaking on the launch of the eBook, Dr. Ayesha Habeeb Omar, co-founder of CommLab India said, "Today, revolutionary developments in technology such as the advent of HTML5 and increasing capabilities of rapid authoring tools make it possible to leverage the power of mLearning in quick time at low cost. This eBook goes a long way in helping firms impart better training, harnessing the power of the mobile device."
On this occasion, Dr. Sandhya Johnson, Director – Learning Design at CommLab India stated, "The phenomenal growth in the use of 'mobile Internet' has brought radical changes in all facets of our lives and learning is no exception.
Organizations worldwide have realized the immense learning potential of the mobile device and are seeking to impart high quality training through mLearning, and this eBook provides all the information you need to unleash the power of mLearning."
Click here to Download your Free Copy
About CommLab India
CommLab India LLP is a leading eLearning services company with expertise in developing interactive online learning courses. It has worked with both mid-size organizations and independent divisions of large organizations to train their workforce since 2000. It has rapidly grown since then and has a team of 120+ eLearning professionals catering to the needs of its customers in US, Canada, UK, Australia, Europe and India. It's services include rapid and custom eLearning development, conversion of legacy courses into mobile compatible HTML5 format, translation of courses and Plug-n-Play LMS installations.
Visit http://www.commlabindia.com for more information.
Contact
CommLab India
Asma Zaineb
+91-40-27803080
www.commlabindia.com

Contact