Craftline Productions to Complete "Desperate Measures Film" - Fans Anticipate Completion
Craftline Productions, founder of Anora Media plans to complete "Desperate Measures Film" as fans anticipate its completion.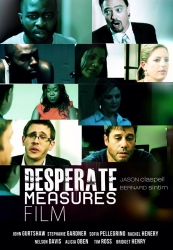 Woodbridge, VA, October 04, 2014 --(
PR.com
)-- A Virginia based video production company, Craftline Productions LLC, and founder of Anora Media, a small video production company with just over three years in the video production industry collaborates with award winning cinematographer, "Blackmagic Tim," creator of "Apple Crumb Panic" – 1992, in the upcoming "Desperate Measures Film."
The company prides itself on being one of the emerging independent film producers in the Woodbridge, Virginia area and plans to complete "Desperate Measures Film" by the end of December.
The film is a dynamic drama about love, hate, and regrets. Most people often underestimate the power of karma while failing to realize that no matter where they go or how far they travel, their past will eventually catch up with them, because bad decisions and selfish acts are a part of human nature that's hard to avoid and almost impossible to escape. Justice is not always served because life is not always fair. Some people say that we're all connected in one way or another, and as these stories unravel this statement is found to be accurate.
"A solid, unpredictable three-tiered drama that bites you in the gonads!" -Earl Hamilton (Screenplay Writer)
Story 1: Russell, an unemployed guy who finally catches a break when he finds an envelope full of money, but his pregnant fiancé wants him to do the right thing and turn it in. But where the money came from and where it will end up may actually be a twist of fate.
Story 2: Dale is an odd man who saves a little girl's life. Her parents want to show their gratitude for his wonderful deed but the more they talk the more they realize just how odd this hero really is. They offer to give him anything he wants, but his unusual request makes it hard to say yes.
Story 3: Gus is a middle-aged man, a holy man who loves his wife but unable to give his wife a child. The love still exists but an overwhelming force drives her to want to leave him. Words are exchanged, and after years of painful memories he finally tells her his darkest secret.
Desperate Measures was picked out of 15-screenplay submissions. The film is currently projected release January 2015.
About Craftline Productions:
Craftline Productions (CP) is a small video and television production company committed to providing cost effective quality services. They are based in Woodbridge VA, about fifteen to twenty minutes away from Washington DC and within minutes to Maryland.
Together with their creative team, the company have set themselves apart as one of the fasters growing companies in the video-film industry, dedicated to producing classic storytelling through quality films.
Interested parties can find more details here:
http://igg.me/at/dmf15/x/6605562
Contact Information:
Craftline Productions LLC
craftlineproductions@gmail.com
Desperate Measures Film
desperatemeasuresfilm15@gmail.com
https://desperatemeasuresfilm.wordpress.com/
Contact
Anora Media
Rex Annor
571-492-1798

Contact