Non-Sanctioned Powerlifting Competition Hosted by National Institute for Fitness and Sport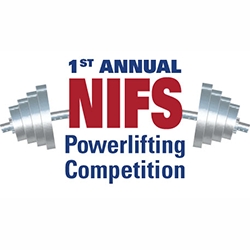 Indianapolis, IN, October 07, 2014 --(
PR.com
)-- The National Institute for Fitness and Sport (NIFS) will be hosting a non-sanctioned Powerlifting Competition on Saturday, November 8, 2014. Competition begins promptly at 9:00am and is limited to 50 participants (25 female and 25 male). Athletes will be categorized by gender and body weight.
Different from weightlifting, powerlifting is comprised of three lifts: the Squat, Bench and Dead Lift. Competitors will be allowed three attempts at each of these three lifts. The best lift from each discipline will be added together to serve as the competitors total. Registration is now open for this event. Forms are available at
www.nifs.org/nifs-powerlifting-competition
. Online registration is also available.
Recently, powerlifting seems to be experiencing a rebirth, a resurrection that is occurring on a grass-roots level. Many new lifters are coming into the sport. Tony Maloney, NIFS Fitness Center Manager, says, "When you see the weight go up after all of the hard work you have put in, there is nothing like that sense of accomplishment. Powerlifting is full of those victories."
NIFS will host a Free High Intensity Training (HIT) Session from 8-9:00 am on the morning of the event. This session is free and open to the public and is for all fitness levels. Find more information at www.nifs.org/hit-high-intensity-training. Come early for this fun and challenging workout and stay to watch the Powerlifting competition that follows.
To find out more on the Powerlifting Competition, call (317) 274-3432, e-mail Tony Maloney at tmaloney@nifs.org or visit www.nifs.org/nifs-powerlifting-competition. NIFS media contact: Trudy Coler (317) 274-3432, email tcoler@nifs.org.
National Institute for Fitness and Sport is a non-profit organization committed to enhancing human health, physical fitness and athletic performance through research, education and service.
Contact
National Institute for Fitness and Sport
Trudy Coler
(317) 274-3432
www.nifs.org
250 University Blvd
Indianapolis, IN 46202

Contact