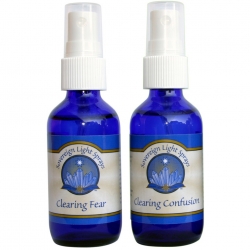 Phoenix, AZ, October 07, 2014 --(
PR.com
)-- Noted yoga and meditation teacher Paula Muran creates a new line of emotional healing sprays. Perfect for holiday gift giving; emotional sprays are ideal for yoga, meditation and therapeutic massage and of course everyone.
Each healing spray has its own unique aroma along with a vibrational formula to enhance energy or to whisk it away. Sprays are named after familiar emotions everyone deals with, for example; Clearing Fear, Clearing Anger, Clearing Confusion, Abundance, Balance, I Am Love, Surrender, Open to Receive, and Protection.
"I created the healing sprays for people to quickly clear their space of any negative energy," says Muran "Simply mist around the body, yoga mat, and yoga studio, home, family members and even pets and within a few seconds users will feel more balanced."
Muran decided to create the emotional therapeutic sprays after a yoga class and thought people need a way to clear emotions after yoga class. People are constantly thinking and surrounded with daily stress, Muran wanted a way for others to release the uncomfortable feelings around fear and anger and feel uplifted. Emotional sprays are a simple, yet effective way to clear emotional energy.
There is nothing artificial in the sprays and they are made with a blend of natural essential oils, gem elixir base and purified water. Emotional Sprays come in two ounce size making them convenient to carry and use in everyday situations. Available online at www.emotionalsprays.com.
Paula Muran teaches mindfulness and meditation and leads world-wide retreats. For the last 25 years, Paula Muran has been leading world-class retreats in London, Egypt, Bali, as well as many near her home base Scottsdale, Arizona. Paula is an emotional healing expert, author, and public speaker. Follow Paula on Facebook @ANewEnlightenment. Purchase sprays directly at www.emotionalsprays.com.
Media Contact: Paula Muran | 1-866.231-0023 | info@paulamuran.com
URL: http://www.emotionalsprays.com