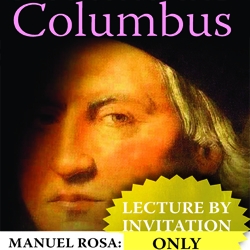 New York, NY, October 07, 2014 --(
PR.com
)-- Back in June, Manuel Rosa, a Columbus expert and founding member of Association Cristovao Colon which is based in Cuba, Portugal, was quoted in the Telegraph rebuking Barry Clifford's finding of the Santa Maria shipwreck in Haiti's waters. Still, UNESCO felt compelled to send a team of experts to Haiti and investigate Clifford's claims. Yesterday UNESCO announced that Clifford's shipwreck cannot be Columbus' Santa Maria, thus confirming Rosa's claims.
Now, based on half-a-lifetime of research, Rosa is out to prove that Columbus was not Italian, as we had all been told. It is no secret amongst historians that Christopher Columbus hid his true identity and changed his birth name to the pseudonym of Cristóbal Colón.
By unearthing unknown facts in the historical documents from various countries, Rosa claims to negate much of the conventional Columbus biographies and, if proven correct, his findings will disappoint many Italians and make them rethink their Columbus Day parades.
It is a fact that the supposedly "Italian" Columbus did not even use Italian in any of his letters, not even to his brothers. He was also made an Admiral and Viceroy, even his brothers and children were given privileged positions within the realm, such as Pages at the court. The sheer impossibility of any peasant from Genoa being able to marry into the high nobility in Portugal, as Columbus did, and have direct access to several monarchs in order to carry out his quest, makes it apparent how the history books may be wrong.
The explorer's father, according to Rosa, far from being the Italian wool-weaver Domenico Colombo from Genoa, was Vladislav III, King of Poland, Hungary and Lithuania. Although historians had claimed that King Vladislav was killed at the 1444 Battle of Varna, ancient Portuguese documents lend support to Rosa's theory that King Vladislav went into secret exile in Portugal, married a Portuguese noblewoman from Madeira Island, and had a royal son there named Segismundo Henriques.
This Polish-Portuguese Prince, argues Rosa, aided by the Portuguese and Spanish courts, hid his true origins and went on to become known as Christopher Columbus - actually Cristobal Colón in Spain. "All of the secrecy back then has then led to the misinformation we face today and it was all done in order to protect the true identity of Columbus' father," says Rosa.
Far from being a self-taught peasant, a poor sailor who stumbled upon America by blind luck, as we had been taught, Rosa presents indisputable facts in his book, "Columbus. The Untold Story," that the explorer was well educated from an early age, spoke several languages and was such an adept navigator that he precisely pinpointed his location in the high seas just West of the Azores during his return voyage while five pilots on the voyage were truly lost.
The documented fact that Columbus wrote his own Book of Prophecies, was especially interested in the Apocalypse, was intent on building an army to remove the Muslims from the Holy Land and instantly wrote about rebuilding Solomon's Temple are clues that Rosa utilizes to assert that the explorer was secretly a Member of the Portuguese Templar Knights, who were then known as the Military Order of Christ, and who owned the Island of Madeira, where King Vladislav was living.
"As a genius and great navigator, Columbus had a mission of his own, something he carried on from his father," wrote reviewer Alex Burke, "and his brilliant scheme to persuade the King and Queen of Spain that he could reach India by sailing west was a necessity in his work as a secret agent for the King of Portugal. The ruse was a complete success."
Thus the real Columbus, as Rosa presents him to us, far from being an incompetent idiot who got lost on his way to India and gained immortal fame through his ignorance, was actually a highly skilled James Bond of his day, who planned each step carefully and whose secret mission of lies and treachery aimed at Queen Isabella none had suspected up to now. His was a life of intrigue, secrets and misleading lies. Yet, Rosa seems to have "solved the mystery with sound research and documentation," conceded Alex Burke.
"Another nutty conspiracy theory!! That's what I first supposed. I now believe that Christopher Columbus is guilty of a huge fraud carried out over two decades." - James T. McDonough, Jr., Ph.D. Professor for 31 years at St. Joseph's University.
"Columbus. The Untold Story" has been published in Portugal Spain, Poland and Lithuania and seeks an English language publisher. The rights were recently acquired by Chelsea Multi-Media, who intends to create a variety of multimedia products and sees potential for a blockbuster feature film.
"Mr. Rosa's tenacity as an investigative historian results in an undeniable case for Columbus being a highly skilled, international spy whose real identity and mission is, only now, coming to light!" said Thom MacNamara, production executive, who is adapting the script for Chelsea Multi-Media. "We believe this will be a blockbuster, thriller film that will reveal the surprisingly sophisticated world of fifteenth century, geopolitical espionage!"
A Portuguese-American historian and author, Rosa emigrated from the Azores to the Boston area in 1973 with his parents. He is a recipient of the 1976 Boston Globe's Art Merit Award and the Lockheed Martin Lightning Award.
Manuel Rosa will be give a lecture in New York this Columbus Day, October 13 titled "Christopher Columbus: Polish-Portuguese Connection"
When: Columbus Day, October 13th, 2014 @6:30pm
Where: Polish Institute of Arts and Sciences of America,
208 East 30th Street, New York, NY
Space is limited. RSVP to aleks.slabisz@gmail.com