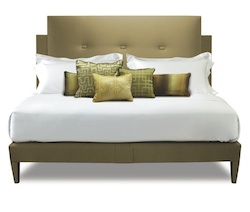 New York, NY, October 14, 2014 --(
PR.com
)-- Small luxury London/Cardiff based bed makers Savoir Beds hits Hollywood with an on-screen mention in the blockbuster film, Gone Girl, Number 1 again in the weekend box office.
Neil Patrick Harris, as lovelorn Desi, takes Amy (Rosamund Pike) on a tour of his country house, trying to impress her at every turn by showing off the deluxe wine cellar, the heated floors, the extensive security system, and on and on, ending in the bedroom with:
"…And the bed is a Savoir, you can't get a better night's sleep" Testing the firmness of the mattresses Amy responds with "… Ah, that's all that I need right now."
The scene reiterates that Savoir is the world's most luxurious sleeping system. The featured bed is a Savoir No2, which was initially commissioned for The Savoy Hotel over a century ago and is still handcrafted with the original methods and natural materials in London, taking around 80 hours to perfect. No stranger to the spotlight, Savoir beds' comfort is almost as renowned as the luminaries who have slept in their beds, a list including the likes of Sir Winston Churchill and Marilyn Monroe.
Alistair Hughes, Managing Director of Savoir Beds comments on the screen debut: "We are obviously delighted to see Savoir in the spotlight! However we aren't entirely new to Hollywood, we have worked with a whole host of A-List clients. Our beds are completely bespoke and we focus on handcrafting each specific order here in London/Cardiff. Giving our high-end clientele the best night's sleep is our priority, after all you spend a third of your life in bed. Our bespoke beds are crafted by our highly skilled London/Cardiff based Bedworks team with the best quality natural materials."
Gone Girl was released on 2nd October 2014, written by Gillian Flynn (from her book of the same name) and directed by David Fincher who also helmed The Social Network, Fight Club and Zodiac. So far the film has received critical acclaim and has topped the UK box office.
Savoir Beds
Savoir beds were first created for The Savoy Hotel in 1905, where for over 100 years luminaries as diverse as Sir Winston Churchill, Giacomo Puccini and Marilyn Monroe have experienced the cloud-like comfort they provide.
Hand-made in the UK, the finest natural materials and skilled craftsmanship combine to create the ultimate sleeping system. Each mattress is made by one craftsman for a specific client, tailored to their precise needs. Bespoke upholstery and headboards allow a client to be fitted for the right bed, thus the perfect night's sleep, and an investment that pays off every morning of your life.
Savoir boasts a number of showrooms in the UK and worldwide. For more information visit www.savoirbeds.us.