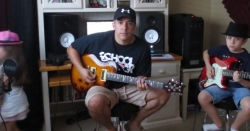 Coral Springs, FL, October 14, 2014 --(
PR.com
)-- On November 15, 2014, the six School of Rock locations in Florida will come together for a day of music at Roxy's Rooftop in West Palm Beach in a joint effort to raise money for the Oswald Checa Rare Lymphoma Cancer Fund. The fund will aid in the care and support of Coral Springs resident, Oswald (Ozzie) Checa, who was recently diagnosed with a rare and aggressive form of Lymphoma.
The Red, White and Blues Festival is the second of its kind, with last year's beneficiary, The Wounded Warriors Project, receiving several thousand dollars in proceeds from the event. The six School of Rock locations in Florida are North Palm Beach, South Palm Beach, Coral Springs, West Broward, Oviedo and Miami. All six participated in last year's event and are looking forward to a bigger, more successful event this year.
Ozzie is currently undergoing treatment at Memorial Sloan Kettering Cancer Center in New York City, one of the nation's top rated cancer treatment centers. His wife, Irene, and two young children will remain in Coral Springs during his treatment over the next year with Irene planning to travel to New York as often as possible.
The Checas have been residents of Coral Springs for over 10 years and have participated in School of Rock programs for the last 4 years. Ozzie's 10 year old son, Alejandro, will perform at this year's event, playing guitar as a student in the School of Rock Coral Springs House Band.
House Bands from all six schools will each perform a 45 minute set. Performances begin at noon, with doors opening at 11:00am. The event will also feature a silent auction and raffles. Tickets are $10 per person and must be purchased in advance at any of the six School of Rock locations or on Facebook at www.facebook.com/RedWhiteAndBluesFestival.
All proceeds from ticket and T-shirts sales will go to The Oswald Checa Rare Lymphoma Cancer Fund! For more information, please call Burny Pelsmajer, General Manger in Broward County at (954) 757-7625 or email BPelsmajer@schoolofrock.com, or Mary Mandel, General Manager in Palm Beach County at (561)625-9238 or mmandel@schoolofrock.com