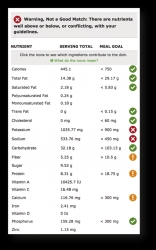 Louisville, KY, October 15, 2014 --(
PR.com
)-- FoodCare Inc., a leading population health company focused on clinical nutrition guidance technologies, today unveiled its new offerings for Health Associations designed to help national associations and local chapters transform their patient and caregiver communities.
An estimated 150 million Americans are living with nutrition related chronic diseases like diabetes, hypertension, liver disease and kidney disease. While several recipe and meal planning websites display key nutrients relevant to managing specific chronic diseases, none are able to translate the nutrition data for individuals on a personal basis inclusive of their specific disease states, health goals and demographic profile. Neither can they account for the presence of multiple chronic diseases ("co-morbidities"), which at times will have conflicting nutritional recommendations that must be resolved.
For health associations that count consumer education among their mandates, FoodCare's solution will be an essential component of their community education and engagement strategies.
First to launch this revolutionary platform is The National Kidney Foundation (NKF), the leading organization in the U.S. dedicated to the awareness, prevention and treatment of chronic kidney disease (CKD). The NKF's free My Food Coach by NKF app for web and mobile will provide personalized nutrition guidance to an estimated 26 million Americans living with CKD, and to the one in three Americans, over 73 million, who are at risk.
FoodCare's technology is the first that can translate the nutrition data of any food item for the personal dietary needs of an individual across all stages and additional complications of CKD, tailored to their personal profile, based on the KDOQI Clinical Practice Guidelines for Nutrition. Furthermore, it is the first solution that can also incorporate the clinical dietary guidelines for other chronic diseases like diabetes, heart disease and liver disease coming from other major health associations and institutes.
The FoodCare system is the first of its kind to leverage modern "big-data" computing approaches to process the billions of calculations necessary to instantly personalize nutrition guidance. For the NKF, the technology represents a game-changing opportunity to engage their community and increase health literacy.
"The National Kidney Foundation is excited to expand our dietary resources to serve those with kidney disease and their families as well as the millions who are at risk for kidney disease. The ability to easily sync between the web and app versions is in tune with today's busy lifestyle and enables people to focus on their health and important dietary needs whether at home or while on the go," said Bruce Skyer, National Kidney Foundation Chief Executive Officer.
For health associations and chapters that support patients and caregivers with clinical nutrition guidance, the FoodCare web and mobile food community app can be deployed in days. The consumer app supports recipe search and creation, grocery item and restaurant dish nutrition, meal planning, and has additional capabilities to support community engagement inclusive of news, events and educational tips.
"Our health associations and their chapters perform critical roles in population health specific to their patient and caregiver communities. We need to help them go beyond the first generation of recipe websites that purport to provide guidance to specific sets of patients, yet know nothing about the individuals true health status, clinical considerations or food preferences. With FoodCare's technology, health associations can create new relationships with patients, caregivers, dietitians and food brands," said Ken Marshall, CEO of FoodCare.
About the NKF
The National Kidney Foundation is the leading organization in the U.S. dedicated to the awareness, prevention and treatment of kidney disease for hundreds of thousands of healthcare professionals, millions of patients and their families, and tens of millions of Americans at risk. For more information, visit www.kidney.org.
About FoodCare
FoodCare is a population health company that brands clinically based nutrition apps for health associations, healthcare providers, media companies, private practice dietitians, nutritionists, and many others. FoodCare's Nutrition Insights™ technology instantly translates the nutrition data for any food item to the clinical dietary needs for numerous chronic diseases on an individual basis. Learn more at www.foodcare.com/health-associations.
Press Contact:
Lisa Luong
lisa@foodcare.com
502 822 6358