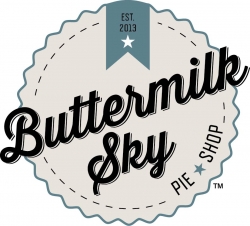 Knoxville, TN, October 15, 2014 --(
PR.com
)-- Buttermilk Sky Pie Shop is owned and operated by Scott and Meredith Layton. Their first business in the sweets trade was called the Cupcakery, a bakery which featured cupcakes. The transition to pies was borne out of their pasts. Both Scott and Meredith grew up in their grandmothers' kitchens where pies were made with passion and the freshest ingredients. The memories of Scott's Granny and Meredith's Nanny inspired the creation of the Buttermilk Sky Pie Shop which offers fresh handmade pies and thumbprint cookies daily in a unique, homey environment based on their southern traditions and heritage.
Now the opportunity to own a Buttermilk Sky Pie Shop is available to investors who wish to delve into the thriving, $647 million, baked desserts industry. Startup costs for new franchise owners range from $257,400 to $305,200 and both inline and stand-alone store options are available. Partnering with a local Knoxville architecture firm, Studio Four Design, Inc., the Laytons have designed the "look-and-feel" of Buttermilk Sky Pie Shops to represent the ole' timey feel of their grandmothers' kitchens.
Along with the southern tradition style store design franchise owners will receive most of the proprietary recipes from the Laytons, but not all. "The secret of our pies is our crusts and we plan to keep it that way. All dry ingredients will be pre-blended to maintain our grandmothers' recipes a secret," explains Meredith. Just as Coca Cola protects its syrupy secret, so to are the Laytons who do not want their recipes to fall into the hands of competitors.
"The perfect candidate to own a Buttermilk Sky Pie franchise is someone who is passionate about being a pie purveyor," states Roger Flynn the COO for 1st Choice Franchise Concepts who will be managing the franchise development. "This is a great concept because the space needed to operate a Buttermilk Sky Pie Shop is approximately 1,200 square feet, so not a lot of cost will be in the lease for space. Plus the menu is limited which decreases your inventory requirements. And who doesn't love Pie? It's a win-win all around."
For more information about a
Buttermilk Sky Pie Shop Franchise
or to attend Discovery Day, please contact Roger Flynn, (865) 320-0083.