Smiles All Around – Reynolds Consumer Products LLC and TRCo Offer Photo Book Rewards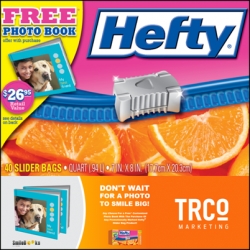 New York, NY, October 16, 2014 --(
PR.com
)-- In an effort to reach consumers through a new promotional avenue, Reynolds Consumer Products LLC is rewarding select purchases of Hefty® Slider Bags with a free photo book.
The campaign was the brainchild of both Reynolds and promotional innovators TRCo Marketing, who Reynolds tasked with creating an engaging promotional campaign to increase sales of their Hefty® Slider Bags. The promotion launched on September 1st to correspond with the Back to School period, the peak time for sales in the storage bag category of Reynolds' Consumer Products Portfolio. The photo book reward targets mothers, 79% of whom pack their children's lunch at least once a week.
The objectives of the promotion are twofold; not only does the photo book influence moms to purchase at the point of decision, but it also serves to preserve their emotional connection with the brand. "We were looking to connect with our consumers by giving them something meaningful and engaging to drive purchase of Hefty® Brand Slider Bags," explained Lisa Smith, Director of Marketing for Food Storage.
SmileBooks.com's photo book is valued at $26.95 and is available to customers who purchase the product. Redeeming is easy: simply purchase specially marked packs within the promotional period and follow instructions to design a photo book and submit an order on SmileBooks.com. The promotion will run until June 30, 2015.
TRCo Marketing is a global leader in managing and providing lifestyle reward promotions for the world's biggest brands. TRCo has over 20 years of experience in delivering successful campaigns ranging from loyalty platforms to added value consumer incentives by using intelligence from 17 international offices as part of the TLC Marketing Worldwide Group. For more information, please visit
www.trcoworld.com
or
www.tlcmarketing.com
Media Contact: Patrick Futrell, TRCo Marketing, 617-939-0424,
Patrick.Futrell@trcoworld.com
Contact
TRCo Marketing
Patrick Futrell
617-939-0424
www.trcoworld.com
Patrick.Futrell@trcoworld.com

Contact