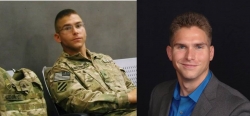 Jacksonville, FL, October 17, 2014 --(
PR.com
)-- STONEWORK Franchising is now open for business. STONEWORK Franchising opened for business a few months ago and is tackling the hardest part about leaving the military, uncertainty.
STONEWORK Franchising
is a free consulting service and mentorship company for military and veteran transitions into business ownership. Stonework is a matchmaker that connects you to successful business systems. STONEWORK franchising is a "no cost consultant service" because the businesses in the company's network pick up the tab for their services to the veteran. With clients, STONEWORK Franchising will establish a timeline that suits the veteran's needs and expectations.
Life changing experiences of several combat deployments is experience in the company's arsenal that is already proven to help Vets make the leap. Deployment experience is perfectly suited for entrepreneurship. STONEWORK Franchising provides cutting edge guidance on a path to ownership for future franchisees. STONEWORK successfully matches military, corporate professionals and veterans to the perfect opportunity with its hard as granite support and service.
STONEWORK Franchising has now launched The Stepping Stone Program, providing services to those military personnel who are a few years out, to help them plant the seed for more options upon exit. It provides a platform and long term strategy for transitioning instead of the One Month Left Scramble.
"I was a ground, tactical interrogator 2007-09 and was doing other Intel related missions until recently. I wanted something simple and something that would allow me time to enjoy being at home with family. I now operate what's called a lifestyle business because it is completely flexible and run out of the home. I am a full time student and stay at home dad. I have met clients everywhere and I love to talk about business opportunities for veterans." - STONEWORK Franchising's President and Founder: Alexander Hildenbrandt.
STONEWORK Franchising tries to give the same outcome to other guys who have been geared up for years and need comfort and financial security in their life. Providing education on how to incorporate other vet benefits and resources available to make the business transformation happen.
STONEWORK Franchising thanks those who are still serving today. It is a great pleasure to work with others who have served and deliver entrepreneurial success and security. STONEWORK Franchising is proud to be open for business.
Alexander Hildenbrandt
President and Founder
STONEWORK Franchising
912-271-5748
www.stonefran.com