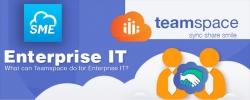 London, United Kingdom, October 21, 2014 --(
PR.com
)-- Today, enterprise content management solutions are complex, cumbersome and costly. Companies need to access their information from anywhere, at any time and with different types of devices. Their availability in real-time, security, including full file event audit, are key elements for an optimal and efficient performance of daily business activity and for this reason Teamspace has decided to expand its cloud services offering with the new service from SME.
Storage Made Easy
offers a complete platform for securely synchronizing and sharing enterprise files with additional governance controls. Files can be encrypted and shared through links that are password protected and only temporarily valid. All file events are also audited and available for a compliance officer or company management in excel format.
The service provides single-sign-on and offers out-of-the-box integration options with LDAP and Active Directory.
"With this new service, Teamspace is bringing Enterprise grade File Share and Sync to South African shores. South African companies can now consume public and private versions of the Teamspace software suite directly from South Africa Data Centres, without having to deal with the complexities of cross border data migration," says Stanley MD Elyon Technologies.
All mobile devices are supported including Android, iOS, Windows Phone and BlackBerry whose use can be controlled by the built in Bring Your Own Device (BYOD) controls to manage usage of devices.
The solution platform also provides a protocol gateway which enables access to data over standard protocols such as WebDav, FTP, and SFTP enabling complete flexibility of access to company data.
Jim Liddle, CEO of Storage Made Easy, said, "It is great to see the innovative solution that Teamspace has deployed which make use of the Storage Made Easy technology. We are sure it will be a great success in the South African market."
About Teamspace:
Teamspace, a division of Elyon Technologies, is a premier Cloud Solutions and Service provider with in Pretoria, South Africa. Since our inception in 2013, Teamspace has remained at the forefront of Internet technologies, leading the local industry in all aspects of development and innovation.
Teamspace seeks to achieve market leadership in the provision of Business Relevant Technologies and Implementation services, and to provide holistic solutions covering a wide range of services and Internet technologies.
More information can be found at www.teamspace.co.za
About Storage Made Easy (SME):
Storage Made Easy is the trading name of Vehera LTD who has offices in the UK, USA and Switzerland. The SME solution allows IT to regain control of "cloud data sprawl" by unifying private/public company data and privately used employee cloud data solutions into a single converged infrastructure.
This can easily be managed and be used to set and enforce governance and audit controls for file access and sharing in addition to providing deep content search of indexed data. This approach provided a solution to the "shadow IT" conundrum and makes it possible for companies to find a balance between the protection of corporate data and employee data by allowing businesses to monitor, secure and audit all data silos, be they private or cloud or company or employee, from a single access point.
Further information can be found at www.StorageMadeEasy.com