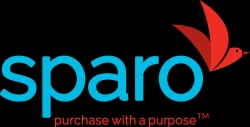 Potomac, MD, October 22, 2014 --(
PR.com
)-- Sparo is shaking up the e-commerce and charitable-giving landscape with the launch of their Purchase with a PurposeTM program. The startup's patent-pending application can be embedded on any merchant's site, and enables online customers to have a portion of their purchase donated to the charity of their choice -- for free.
"Sparo's goal is to create a world in which commerce and charity go hand-in-hand in a seamless and effective way," said Rob Sobhani, Founder and CEO of Sparo. "Because of our large network of charity partners, Sparo allows our partnering merchants to care about the causes that all their customers care about."
Sparo launched with Citron Clothing (citronclothing.com) earlier this year, which has shown an exponential increase in sales as a result of the program. They are now live with various merchants including Kay's Naturals, a nationally distributed gluten-free snack company, The Washington Times, a national newspaper publication and MommaLu an innovative platform to send out cold or flu care packages. They are also set to go live with VK Nagrani, a high-end fashion line in New York.
"I have no doubt that their businesses will grow as a result of this bold and daring move to partner with us," said Sobhani.
Sparo currently partners with and has raised funds for over 80 local, state, national and international non-profit organizations. "Partnering with Sparo has enabled our organization to increase our visibility and attract new donors through e-commerce," said David Litwack, Executive Director of Save a Child's Heart Foundation. "Their innovative technology has made it easy for shoppers to contribute to our charity at no cost to them or our organization. There are many e-commerce charity platforms out there, but Sparo soars above them all."
Sparo's launch also comes with the release of their member site at sparo.com, which is a hub where members can track their donation activity, save their favorite merchants and charities, and keep track of the latest news and promotions exclusive to Sparo. The startup's game-changing platforms were designed to encourage the cycle of conscious giving and conscious buying. They are looking to sign-up more merchants, charities and members.
Sparo is a patent-pending application that allows customers to have a portion of their purchase donated to the charity of their choice, at no additional cost. Because the merchant is making the tax-deductible donation, there is no cost to shoppers or non-profits. The tech startup has also launched their first round of seed-funding for investors who are interested in giving capitalism a conscience by revolutionizing the way people give and the way people buy.
For more information about Sparo, go to
www.sparo.com
or contact (877)-9-SPARO-1.