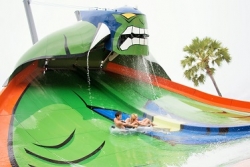 Las Vegas, NV, October 29, 2014 --(
PR.com
)-- Polin Waterparks took top honor during the World Waterpark Associations' (WWA) Symposium & Trade Show Awards ceremony held in Las Vegas, Nevada, USA.
The WWA's 2014 Leading Edge Award was presented to Dr. Baris Pakis, President of Polin Waterparks and Mr. Liakat Dhanji, CEO of Cartoon Network Amazone Waterpark, located near Pattaya, Thailand. "The Leading Edge Award" is presented to a park and supplier members who, through their combined efforts, have brought a project, product, service or program to fruition, thereby creating industry innovation and leadership.
"It gives us immense pleasure in winning this prestigious award that recognizes our pioneering work in providing world class attractions in a groundbreaking collaboration with Cartoon Network Amazone," stated Baris Pakis, President of Polin Waterparks. "As the supplier of many award winning waterparks in the World, we are proud of to be working in conjunction with Cartoon Network Amazone's creative and innovative team and is the first waterpark to have all their waterslides themed. Though theming in waterparks is not new, the theming of the all waterslides as characters or elements of a story is something brand new."
The characters or story elements were not after painted onto the rides. Polin Waterparks manufactured each slide with the design element themed into the fiberglass itself and then gel-coated the slides. This makes it unique.
Polin's popular King Cobra waterslide was uniquely re-themed into the character Humungosaur, one of the most well-known characters in Ben-10 cartoon series.
All the waterslides and water play structure rides at Cartoon Network Amazone were manufactured using Polin Waterpark's patented Resin Transfer Molding (RTM) technology which is the latest technology in waterslide manufacturing. This latest technology provides a superior and smooth finish on both sides improving the appearance of the slides. It also creates stronger, homoginous water slides that use less waste in the manufacturing process, which is critical in today's environmentally conscious world. The waterslides produced by this technology are both aesthetically and physically superior.
The biggest challenge in the continuing evolvement of the waterpark industry is to always be providing something new and unique to keep guests interested and coming back again and again. Polin Waterparks strives to provide the most exciting and most original rides ever created. The brilliant Cartoon Network Amazone team dreamed of a waterpark not seen or ever done before. But while that might be a challenge to some, Polin Waterparks saw it as an opportunity.
"We studied our clients' interests and goals and worked together with them to turn this into reality," explained Baris Pakis. "Our research showed guests wanted excitement in a waterpark. They wanted their hearts to pound. They wanted a ride to take their breath away. So together with the Cartoon Network Amazone, we created waterslides with new exhilarating drops, multiple uphill and centrifugal sliding routes, and water jets that push guests along even faster—rides with steep entries and the thrill of free falling."
About World Water Park Association:
The World Waterpark Association is an international not-for-profit organization whose primary purpose is to further safety and profitability in the waterpark industry. The WWA Awards are presented to companies and professionals representing both the newest ideas in waterpark products and services, plus those proven performers that have brought the industry through the years.
About Polin Waterparks:
Polin was founded in Istanbul, Turkey, in 1976 and has become one of the leading companies in the design, manufacturing and installation of waterparks and waterslides. Polin's commitment to customer satisfaction, research & development and superior quality are key factors which contribute to Polin' s ongoing success in the industry.
About Cartoon Network Amazone Waterpark
The global theme park industry is set to be redefined with the 2014 opening of Cartoon Network Amazone, a destination designed for the young and the young at heart alike. Offering a full day of exciting entertainment, including dynamic social and interactive features, this world-class water park will catapult guests into the dynamic world of Cartoon Network, bringing its popular series and toon stars to life like never before.
Located in Bang Saray, Thailand – a picturesque beachfront village just 20 minutes from Pattaya, 90 minutes from Suvarnabhumi International Airport and a two hour drive from Bangkok – Cartoon Network Amazone is an immersive entertainment experience comprising 10 themed entertainment zones spanning a generous 35 rai (14 acres), each one offering an array of exhilarating water coasters and attractions. The waterpark also features captivating live and multimedia entertainment that incorporates the latest in interactive smart-screen technology – bringing fans of Cartoon Network closer to their favorite characters than ever before. Cartoon Network Amazone is a licensed agreement between Amazon Falls Co. Ltd., the development of the waterpark, and Turner International Asia Pacific, the owner and operator of Cartoon Network.
More on Polin
Polin was founded in Istanbul in 1976, and has since grown into a leading company in the waterparks industry. Today Polin is one of the world leaders in the design, production, and installation of waterparks, waterslides & water play attractions. 2500 waterpark projects in 90 countries around the world have been completed by Polin, and Polin is the biggest waterslide supplier in Eurasia. Working with a wide variety of clients has helped Polin reach several milestones, including installing the first waterparks of many countries and many other award winning rides at parks with world-renowned reputations. Polin offers the industry's widest range of products, including signature rides such as the patented King Cobra, Magic Spheres, Spheres, Magi Cone and Space Shuttle.
Polin is the pioneer in the advancement and application of closed-molded manufacturing technology in waterslide development. First implemented in 2006, 100% of Polin's annual fiberglass production has been converted to resin transfer molding (RTM), and meets the industry's highest standards. Polin offers both bowl rides and family rides featuring RTM techniques. Polin also offers its unique and patented Natural Light Effect technology, Special Pattern Effects technology in RTM and translucent RTM waterslides.Polin is an ISO9001 certificate holder by TUV Germany since 2003, all Polin slides conform to European norms, all steel parts conform to international DIN standarts, all designs conform to ASTM practices, and Polin is also CSEI approved for projects in China. Polin is the only waterslide company that holds a quality certificate for all of its waterslides by TUV, and was the 2012 Export Winner of Turkey in the SMSE Category. Polin has a high plant capacity with production in 3 existing plants in Turkey. Our 4th facility is just open. Polin's team totals 500 people, with five offices throughout the world.