The Violent Birth of the Americas is Told in a New Historical Novel, The Golden Chalice of Hunahpú, by William Vlach
The Golden Chalice of Hunahpú: A Novel of the Spanish Attack on the Maya Full Court Press, 2014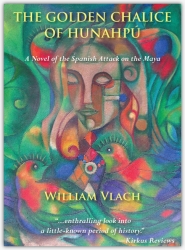 San Francisco, CA, November 11, 2014 --(
PR.com
)-- Full Court Press is releasing the dramatic historical novel The Golden Chalice of Hunahpú: A Novel of the Spanish Attack on the Maya by San Francisco psychologist and writer William Vlach. The front cover is by noted Guatemalan artist Emanuel Paniagua.
"To understand the crisis of the children at the border, one needs to understand the violent origin of the Americas," Vlach said. "The book reveals the Spanish-Mayan war, the so-called Conquest, from the first person narratives of both the Mayans and the Spanish."
Early notes have included Kirkus Reviews: "Vlach, a practicing psychologist, has clearly done his research for this debut novel; the historical detail is impressive and the settings are vivid and realistic."; Ramón Sender Barayón, author of A Death in Zamora: "What a page-turner!"; and Alejandro Murguía, Sixth Poet Laureate of San Francisco: "A work in the great tradition of Miguel Angel Asturias—the magical voice of the Maya come to life."
The Golden Chalice of Hunahapú is an epic novel of the struggle for the Americas, an odyssey moving from the pre-Columbian Mayan empire to the splendid Golden Age of Spain then back to the battle for the land and soul of Guatemala. The tale is told in three first person chronicles: Kaqchikel Mayan prince Belehe Qat is both witness and warrior as he tries to save his people; young and fierce Spanish noblewoman Beatriz pursues marriage to the powerful conquistador, Alvarado, only to find the New World is more than she bargained for; and the hilariously acerbic Domingo, a Sancho Panza-like monk, seeks to find meaning in the middle of this 16th century American holocaust. Their intertwining stories lead to the shocking volcanic climax.
Vlach, a police psychologist, who has done field work in Guatemala with his anthropologist wife, Norita Vlach, has published poetry, essays, and won awards for both his playwriting and parody. Cover artist, Guatemalan Emanuel Paniagua, who works with both paintings and sculpture, says about his work, "I was born into an aesthetic culture that has been crafted through centuries with artistic mastery in weavings, clay, stone."
The Golden Chalice of Hunahpú: A Novel of the Spanish Attack on the Maya is available at independent bookstores, Amazon.com, Barnes&Noble.com, and other online bookstores.
For more information and interviews about this new release, William Vlach may be reached at:
Phone: 415-681-6565
Email: williamvlach@gmail.com.
Web site: Willliamvlach.com
Blog: williamvlach.wordpress.com/
Facebook: The Golden Chalice of Hunahpú
Twitter: @vbvlach
Contact
William Vlach
415-681-6565
http://williamvlach.com

Contact