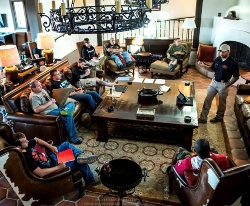 Houston, TX, November 11, 2014 --(
PR.com
)-- A sobering thought - every single day, 23 of our Nation's veterans commit suicide. The battle these men and women fight abroad is often brought home and impacts their daily lives. Traditionally, these brave warriors have found little refuge or relief for these concerns. Mighty Oaks Warrior Programs (MOWP) operates on a standing commitment to aid those suffering from Post Traumatic Stress Disorder (PTSD) and Combat Trauma – additional information can be found at
www.PTSD.org
.
This program reaches out to communities across the 50 states and communicates directly with the U.S. Armed Forces to ensure that military personnel have the opportunity to participate in PTSD-focused support groups and marriage-enrichment seminars.
In early September, MOWP held its 4th annual fundraiser at WoodsEdge Community Church (
www.WoodsEdge.org
) located in The Woodlands, Texas. Chad and Kathy Robichaux, founders of MOWP, along with keynote speaker, former Alaska Governor Sarah Palin, discussed the services provided by MOWP for warriors. The MOWP fundraiser raised a total of $125,000 in support.
At this fundraising event, MOWP found an additional donor that has residually supported military personnel for years – Richie's Specialty Pharmacy, LLC (
www.Richies.com
). Having supported our nation's military in hostile situations all across the globe through Tip of the Spear (
http://www.TipoftheSpear.org/
), Richie's Specialty Pharmacy, LLC (Richie's) is proud to support MOWP. "Richie's support of MOWP is consistent with our longstanding commitment to support the men and women who fight for our nation's freedom around the globe," says Richie Ray, Pharmacist-in-Charge and President / CEO of Richie's.
MOWP looks forward to further serving veterans across the United States with the assistance from Richie's and other donors to ensure an opportunity for recovery through Christ.
This transformational program recently received news that they are the second program ever to earn blanket approval for hosting Marines from the Wounded Warrior Battalion West located at Camp Pendleton, California. The Command now has clearance to automatically send Marines to the Mighty Oaks Warrior Programs.
For more information about Mighty Oaks Warriors, please visit the Mighty Oaks Warrior Programs website at:
www.MightyOaksPrograms.org
.
For more information regarding Richie's Specialty Pharmacy, please visit the Richie's Specialty Pharmacy website at:
www.Richies.com
.
About Mighty Oaks:
Serving California's Mighty Oaks Warrior Programs operates on a standing commitment to assist those suffering from PTSD and Combat Trauma by offering PTSD-focused Fight Clubs and Marriage Advances. MOWP has never lost a Fight Club graduate to suicide nor has a couple divorced after having attended the Marriage Advance program. The programs are cost-free for all who attend.
About Richie's Specialty Pharmacy, LLC:
Richie's Specialty Pharmacy, LLC (Richie's) is a PCAB-Accredited Compounding Pharmacy (
www.PCAB.org
) located in Conroe, Texas. Richie's serves patient-specific compounding needs solely within the state of Texas. Richie's consults for pharmacies and healthcare practitioners throughout the United States and abroad.