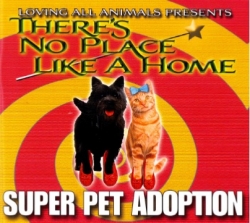 Palm Desert, CA, November 13, 2014 --(
PR.com
)-- Loving All Animals Brings the Number One Food Truck in L.A., Together with Great Music and Family Enjoyment
The 6th Annual Super Pet Adoption presented by Loving All Animals is proud to have Cousins Maine Lobster Food Truck, the #1 Food Truck in Los Angeles, to kick off the Saturday portion of the two-day pet adoption festival. Cousins Sabin Lomac and Jim Tselikis of Cousins Maine Lobster, boast a plethora of television appearances on their website including shows like Shark Tank, Good Morning America, The Chew and appearances on CNBC and Fox Television. They will be serving Lobster Rolls, Lobster Tacos, Lobster Tails & Soups on Saturday at the festival. Known for their fresh Maine Lobster Meals and traditional north eastern seafood, they have a huge following throughout Southern California and the country, and reach almost status wherever they go.
Included on Saturday, Rev. Joe Hooper from the Center for Spiritual Living Palm Desert will conduct a multi-faith Blessing of the Animals and their People at 10AM Saturday, November 15th. Also, the festival will have Mark A. Ciarlante, a.k.a. Tigerman, a professional Conflict Resolution Educator, who brings teaching "Good Old Fashion Values" with a 21st Century flare with his crusade for Bully Prevention in Schools and healthy eating to combat childhood obesity, among many other activities planned for the two-day festival.
Music will also be played on the Main Stage at the Festival. Saturday's program will include Long Duk Dong, a new-wave, old-school cover band that gets the party started playing a great mix of '80s songs and classic rock; The Hive Mind, winners of the 2014 Riverside County Fair and Date Festival Battle of the Bands, whose influences include Bob Dylan, Huddie William Ledbetter more commonly known as Lead Belly, Stevie Ray Vaughn, John Mayer, and Jimmy Page, and; John Stanley King, the legendary musical headliner is known for his extended talent range in all styles of music from Jazz, Acoustic to Classic Rock.
Sunday's musical lineup will include Dude Jones, a 3 piece cover and original band based out of Palm Springs, California; The Mighty Delta Tones, a Coachella Valley blues band that plays a full scope of blues from early standards to Stevie Ray Vaughn, and; R Buckle Road, an all original, alternative, country rock band based in the Southern California desert, whose influences range from classic rock and country, to jazz and alternative folk/Americana.
Other fun activities for families to enjoy include How Your Dog Can Help Teach Your Child to Read, presented by Dr. Lori Friesen who will join the Festival on Sunday. The program is a creative, innovative, and fun ten-week in-school program aligned with Common Core State Standards in Language Arts that helps children become stronger, more motivated readers while learning safety around dogs and compassion for them.
Loving All Animals' 6th Annual Super Pet Adoption Festival will be at Rancho Mirage Community Park (Whitewater Park) Saturday and Sunday, November 15th & 16th, from 10am to 4pm. Admission is $5 for Adults, Kids under 12 are free.
For more information, visit www.lovingallanimals.org or call 760-834-7000.