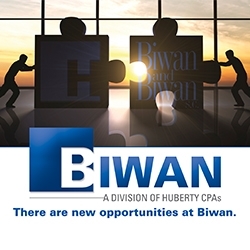 Sheboygan, WI, January 15, 2015 --(
PR.com
)-- On Saturday, November 1, 2014 Biwan & Biwan officially merged with Huberty CPAs & Trusted Advisors. Per terms of the merger, Carla Biwan Hameister has made a long-term commitment to Huberty CPAs in becoming a Shareholder. She will continue to manage the day to day operations of the Sheboygan and Minocqua offices.
Carla revealed her reasoning in choosing Huberty CPAs, "Both Biwan & Biwan and Huberty CPAs are built on traditions of success and enduring client relationships. Our firms share a strong commitment to personal service, professional expertise, and exceptional long-term leadership. These mutual values make the merger a natural fit for our loyal clients, trusted employees, and professional colleagues. "Huberty CPAs is fortunate to have added an experienced and trustworthy shareholder in Carla. The new office locations in Sheboygan and Minocqua are considerable strategic additions to our existing locations in Plymouth, Fond du Lac, Ripon, and Markesan," shared Gary Born, Huberty CPAs Shareholder.
Ann Freund, Managing Shareholder of Huberty CPAs, added, "Existing clients will have greater access to core services including audit, consulting, and wealth management. Additionally, the newly merged Huberty CPAs staff of 30, including 16 CPAs, will provide industry leading expertise for businesses, governments, and nonprofits throughout Sheboygan, Oneida, and Vilas Counties."
Carla Biwan Hameister along with all Huberty CPAs shareholders are committed to maintaining the level of service individuals and businesses in Sheboygan and Minocqua have come to expect and they value their continued loyalty.
hubertycpas.com/biwan-biwan-has-merged-with-huberty-cpas-trusted-advisors/