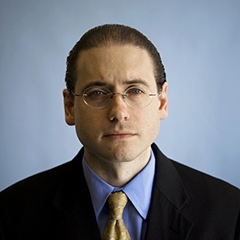 New York, NY, November 25, 2014 --(
PR.com
)-- Adam W. Hapij, PE, a senior associate of Weidlinger Associates, Inc., has been selected as president by the board of governors of the American Society of Civil Engineers' (ASCE) Architectural Engineering Institute (AEI), a national forum for the structural, mechanical, electrical, and architectural engineering communities. Hapij will hold the office of president from October 1, 2014, to September 30, 2015. He is the youngest person ever elected to the office.
As chair of the AEI Task Committee to Study the Aftermath of Hurricane Katrina since 2011, Hapij edited and coauthored the committee's report, Multidisciplinary Assessment of Critical Facility Response to Natural Disasters: The Case of Hurricane Katrina. He has served on the institute's Board of Governors since 2010, and now heads its committee on Building Integration Solutions for Abnormal Demands on Buildings. Many in this committee, which includes both engineers and architects, were personally invited by Hapij to join.
Hapij credits AEI with helping to hone his skills in interdisciplinary collaboration. The organization initially appealed to him because of the diversity of its membership, which encompasses all engineering fields, encouraging communication among them; it is the only ASCE institute that welcomes both student and professional members. "Within the burgeoning field of resilience management, the only way for engineers to successfully tackle problems is to coordinate among myriad disciplines," he said. "My work with AEI's Hurricane Katrina task force exposed me to interdisciplinary collaboration, and later, as project manager of the protective design of the World Trade Center Path Hub, I was able to use what I had learned to implement cooperative solutions among team members on that project."
Like all ASCE institutes, AEI differs from other professional organizations in that it treats the position of presidency as part of a three-year succession; electees occupy the position of president-elect for one year, followed by a one-year term as president and an additional year as past president. Hapij regards the office of the institute's presidency as "an opportunity to develop and expand a relatively small but important organization while helping broaden its renown." Another Weidlinger employee, firm Principal Dr. Mohammed Ettouney, is a past president of the organization, having served during 2005-2006.
Adam Hapij is a civil engineer in Weidlinger's Applied Science & Investigations group, specializing in resilience and evaluation of structural systems under extreme loading. He has contributed to a wide variety of projects, including the protective design of the new World Trade Center PATH Transportation Hub, seismic retrofit of the Bronx Whitestone Bridge, design of vibration-control measures for the U.S. embassy in Berlin, design support of the USS San Antonio (LPD-17), and the vulnerability assessment of emergency evacuation, rescue, and recovery (EERR) equipment in commercial buildings. Hapij holds a bachelor's degree in civil engineering and a master's degree in geotechnical engineering from the Cooper Union, where he has been an adjunct professor for the last five years. He is a licensed Professional Engineer in the State of New York with 18 years of experience in the industry.
The Architectural Engineering Institute (AEI), established in 1998, works to facilitate technical and professional communication among members of the building team and strives to be the premier organizational source of timely quality technical literature, professional advocacy, and educational opportunities for the industry. One of seven ASCE institutes, AEI serves the building community by promoting an integrated, multidisciplinary approach to planning, design, construction, and operation of buildings and by encouraging excellence in architectural-engineering practice, education, and research.
Weidlinger Associates, Inc., is a structural engineering firm that designs and rehabilitates buildings, bridges, and infrastructure and provides special services in applied science, forensics, and physical security. The firm, which employees about 300 full-time staff, celebrated its 60th year in 2009. It is recognized worldwide for its innovative and practical design solutions and for its long-term commitment to advancing the state of the art in engineering. Headquartered in New York City, the firm has branch offices in the United States and the United Kingdom. For more information, please see www.wai.com.