Gigaton Gifts Puts a Tree in Every Holiday Card
Low-cost program lets customers fight climate change, deforestation and poverty when sending holiday greetings by helping to restore ecologically critical mangrove forests.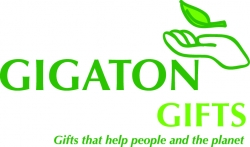 Menlo Park, CA, December 02, 2014 --(
PR.com
)-- Gigaton Gifts, an organization devoted to reversing deforestation across the globe, is now offering customers the opportunity to plant a tree with every holiday card they send. The trees will help to restore devastated mangrove forests in Madagascar.
"The fact is, mailed holiday cards have an environmental cost, in terms of both the paper they are printed on and the energy it takes to manufacture and deliver them," says Gigaton Gifts Co-Founder and Executive Director Elton Sherwin. "With this program, you can offset that cost many times over for less than half the price of a postage stamp." Buyers can purchase trees in increments of 25, to match the number of cards they plan to send. Gigaton Gifts will provide printable descriptive inserts that the sender can enclose with every card.
Deforestation is one of the most urgent ecological issues facing the planet, directly causing or significantly worsening a host of acute problems, including climate change, both drought and flooding, top-soil erosion, extreme poverty (a critical driver of human trafficking) and famine. In the case of Madagascar, more than 90% of the island's original forests have been harvested for timber and to make charcoal for cooking. The mangrove forests that once stabilized the coast and provided critical nurseries for hundreds of species of fish, birds, reptiles, insects - some found nowhere else on earth - have been decimated, leaving the island vulnerable to devastating cyclones and flooding, and destroying once vibrant fisheries.
Restoring mangrove forests has benefits far beyond Madagascar: It is also a powerful way to combat climate change. Healthy mangrove forests are extremely effective at sequestering planet-warming CO2, removing it from the atmosphere and storing it in their soil for thousands of years.
Gigaton Gifts was launched in 2013 by a group of executives, engineers, scientists and parents concerned about the planet they will leave to their children. Gigaton Gifts is committed to reversing deforestation and its accompanying problems, both by replanting devastated forests and by reducing the demand for wood-based fuel for cooking and light. Through the
Gigaton Gifts website
, customers can purchase trees for reforestation projects in severely deforested areas of Africa, Madagascar and Haiti, as well as fuel-efficient, clean-burning stoves to replace the health-damaging wood and charcoal stoves commonly used by families in these areas. The trees are planted by Gigaton Gifts' partner organization, The Eden Restoration Projects (www.edenprojects.org), which has planted more than 80 million trees since 2005. Eden hires local workers to both plant and guard the saplings, providing much needed employment in some of the world's most impoverished areas.
The goal of Gigaton Gifts is to fund the planting of one billion trees and eliminate the use of open fires for meal preparation.
Gigaton Gifts' parent organization, the Carbon Zero Institute, is dedicated to helping stop the increase of atmospheric CO2. The Institute's primary purpose is to promote solutions to stop global warming that work on a gigaton scale, technologies large enough to offset CO2 emissions world-wide. The Institute identifies and analyzes gigaton-size projects and programs, and partners with other organizations and businesses to research, promote and implement these solutions. More information about the Institute is available at http://www.carbonzeroinstitute.org/.
Contact
Gigaton Gifts
Cariad Thronson
(510) 541-4753
www.gigatongifts.org

Contact