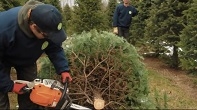 Mallorca, Spain, December 02, 2014 --(
PR.com
)-- Greenwood Management, a forestry and agricultural company has announced that it is expecting this year's returns from its forestry activities will exceed those rates previously projected by the company at the start of its projects back in 2008.
Greenwood Management
has over the years developed a number of substantial forestry projects located within Brazil and Canada.
2014 marks the company's first year of full harvesting operations in Canada which has subsequently exceeded the expectations of the company set at the start of its forestry projects. Although this success has been put down in part due to favorable exchange rates between the US Dollar / Canadian Dollar, the company also stated that it feels the success of its first harvest shows the level of commitment it has made over the years in developing its forestry operations.
Greenwood has announced that it will look to continue to develop further projects within the country over the next few years in order to reduce its operational costs, whilst developing added value for its forestry projects.