Phuket Best Rental Rents the Most Luxurious Phuket Villas for an Unforgettable Wedding Under the Tropics
A wedding is often considered as a memorable day, a special occasion that requires an extraordinary venue to share and enjoy this moment with family and friends. As one of Asia's most beautiful resort island, Phuket is the perfect place to say "yes" to the loved one. To assist in the difficult task to organize this special day, Phuket Best Rental proposes Phuket's most luxurious, exclusive and outstanding villas for short-term rentals.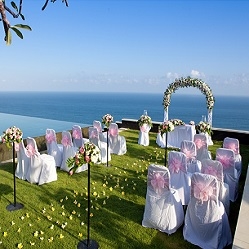 Phuket, Thailand, December 04, 2014 --(
PR.com
)-- With the recent rise in destination weddings to Thailand here is some information for those intending to plan or join a destination wedding on the island of Phuket.
Phuket Best Rental
is a local agency with an extensive portfolio of luxury villas for rental on the island of Phuket. With a wealth of luxury properties gathered on just one website, finding the right villa for your stay in Thailand has never been easier.
In the not too distant past the destination wedding was very much reserved as the preserve of the rich and famous. Nowadays with couples spending more on weddings each year, and the average age of couples to be wed being around 30 rather than 25 more couples each year are turning towards destination weddings in order to make their day extra special. The destination wedding now accounts for between 12-15% of weddings each year for US couples. Destination weddings typically involve a part or full week celebration at a resort destination with the entire wedding party combining the celebrations with a relaxing getaway holiday. Destination weddings are growing in popularity for many reasons not least cost. Many couples these days are increasingly from different areas of the world with families being scattered in various areas. For these couples seeking a wedding destination on common ground, at a central point can be more convenient and diplomatic if families typically have far to travel. Common ground also serves as a positive factor for many couples who are entering into marriage for the second time. Often wanting to seek something different than the more traditional, 2nd marriage couples are an increasingly larger part of the destination wedding percentage. Destination weddings are also a firm favorite for those who are seeking to renewal their wedding vows in a none traditional setting. An increasingly large percentage of those having destination weddings are taking part in renewal ceremonies to celebrate their many years together.
Typically the overall format and needs of the destination wedding leans on luxurious and opulent surroundings. Phuket as a popular Thai destination is an idyllic spot that many choose for their wedding and party preparations. A popular choice for larger parties or families are luxury private villa rentals which are able to accommodate a private group, whilst offering luxury and bespoke services. Luxury property company Phuket Best Rental boasts a quality best-in-class website that offers a range of luxury villas that won't disappoint. With a wealth of choice available for those who want to celebrate in luxury many of the villas offer stunning vistas of some of Phuket's most idyllic beaches. The villas themselves offer private pools, Jacuzzis, games rooms and outdoor barbeque facilities as well as a host of standard features such as international TV, fast broadband and Wi-Fi. With English speaking day staff on hand to help with day to day duties such as shopping, laundry and child-care guests are free to ensure the can relax and celebrate in style. Added extras are organized by the website which has a wide network of local professionals on hand to provide services such as yachts, private chauffeurs, catering and in-house massage and spa services and private chefs all fit for the special celebrations a destination wedding affords.
About: For more information on luxury villas for rent in Phuket, call Bertrand, owner and founder of PhuketBestRental.com, at +66(0)935971707 or email him directly at Info@PhuketBestRental.com. Bertrand's extensive and expert knowledge of Phuket and the rental market on the island has attracted a wealth of exclusive listings across the island, and Bertrand is now unquestionably the key to the best in luxury rentals on Phuket.
Contact
Phuket Best Rental
Bertrand Collet
+66(0)935 971 707
www.phuketbestrental.com

Contact