Jesus Christ Superstar Icon Ted Neeley Releases Music Video for Christmas Single "O Holy Night" from His Current Release "Rock Opera"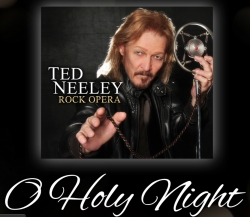 Los Angeles, CA, December 08, 2014 --(
PR.com
)-- Broadway Stage Legend and Jesus Christ Superstar Icon Ted Neeley releases his first music video for the Christmas single "O Holy Night" from his album Rock Opera. The performance features a dramatic, hard-rocking version of the Holiday Classic combines Neeley's famous vocal screams reminiscent of Superstar staple "Gethsemane" and the shrieking guitars of the first Rock Opera ever… The Who's Tommy.
Ted Neeley was recently reunited with his Universal Pictures cast mates Yvonne Elliman and Barry Dennen during the current Jesus Christ Superstar European Tour. Neeley said, "I've always wanted to do a Christmas record and just before I got offered this wonderful chance to reprise the incredible role of Jesus of Nazareth, I entered the recording studio and cut five songs that had that 'Rock Opera' vibe to it. I've been lucky enough to have played in Hair, The Who's Tommy, Sgt. Peppers and of course, Jesus Christ Superstar. I sang a duet with Yvonne Elliman who played Mary Magdalene in the Original Superstar Brown Album in 1970 and with the help of new technology, got a chance to sing one more time with my dear friend Carl Anderson who passed 10 years ago and who I miss everyday. 'O Holy Night' was the last song we recorded and to this date, is the track the fans have just completely embraced. I love it. And I desperately wanted to do a music video to promote the track this Holiday Season. I am proud to present our music video."
Neeley will be returning to the United States in March 2015 to begin a 3 month screening tour of a brand new restored digital version of the 1973 Jesus Christ Superstar film. All upcoming dates are available at TedNeeley.com as well as his Facebook and Twitter pages.
www.skyrocketent.com
Skyrocket Entertainment: provides a diverse label services solution for labels, artists and management. Founded in 2004, and based in Los Angeles, CA., Skyrocket Entertainment offers a turnkey solution, with a focus on execution. info@skyrocketent.com
Contact
Ted Neeley
Kevin Day
818-817-0895
tedneeley.com

Contact