Kick Butt Coffee Wants Central Texans to Get a Kick from Unique Retail Concept
Austin's first martial arts-themed coffee shop set to open in December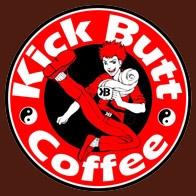 Austin, TX, November 09, 2007 --(
PR.com
)-- Kick Butt Coffee™, the first martial arts-themed coffee shop in Austin, will open for business in early December.
"We might be the only martial arts-themed espresso shop in the U.S.," says Thomas Gohring, founder and owner of
Kick Butt Coffee
.
Aside from Kick Butt Coffee's martial arts-themed logo being present throughout the shop, baristas will wear formal mandarin-collared kung fu uniform tops, martial arts-related posters will decorate the walls and specialty drinks will be inspired by martial arts names.
Kick Butt Coffee will occupy 1,700 square feet at 5775 Airport Blvd. in the Highland Commons shopping center. The new shop is less than a mile from Master Gohring's Tai Chi & Kung Fu, a Chinese Martial Arts academy at 6611 Airport Blvd., a business that also is owned by Gohring.
"The mission of Kick Butt Coffee is to Kick Butt in the coffee business by selling Kick Butt coffee and giving Kick Butt service," Gohring says.
Once Kick Butt Coffee is up and running on Airport Boulevard, the shop will host Kick Butt Comedy and Kick Butt Music events. Former Austinite Joy Gohring, a comedic actress and Thomas Gohring's sister, is the shop's Comedy Consultant. Austin guitarist and vocalist Spencer Gibb, a member of the band 54 Seconds, is its Music Consultant.
As a free service to its customers, Kick Butt Coffee will offer Wi-Fi connectivity, Thomas Gohring says. Surveys have shown Austin is one of the top places for wireless "hot spots" in the country. More than 300 locations in the Austin area are considered "hot spots," including dozens of coffee shops.
Hours of operation for Kick Butt Coffee will be 7 a.m.-11 p.m. daily.
The arrival of Kick Butt Coffee comes as coffee consumption among Americans is surging. According to the National Coffee Association's 2007 National Coffee Drinking Trends report, coffee consumption among American adults has surpassed that of soft drinks, reversing a two-decade pattern. The report indicates 57 percent of American adults drink coffee daily, while 51 percent consume soft drinks each day. Daily coffee consumption among 18- to 24-year-olds jumped six percentage points to 37 percent this year.
Capitalizing on that trend, Gohring envisions operating a total of six or more Kick Butt Coffee locations in the Austin area within five years, with all of them serving "premier home-brewed coffee."
Dave Adamoski, an apprentice instructor at Master Gohring's Tai Chi & Kung Fu (
www.mastergohring.com
), is Director of Operations for Kick Butt Coffee. Mary "The Coffee Queen" Grabhorn is a Special Consultant for the shop.
"We have assembled a Kick Butt team for this unique brand of coffee shop in Austin. We want to have a Kick Butt time and, more importantly, we want our customers to have a Kick Butt experience," Gohring says.
For more information about Kick Butt Coffee, visit www.kickbuttcoffee.com or call (512) 633-8306.
###
Contact
Kick Butt Coffee
John Egan
512-799-1022
www.kickbuttcoffee.com

Contact