CellarStone Authors a New eBook Titled "The Great Accounting Cloud Land Rush"
CellarStone, Inc., a premier provider of sales performance management solutions, has partnered with THiNKaha to produce a new social media enabled eBook of the top quotes from the recent QuickBooks Connect conference.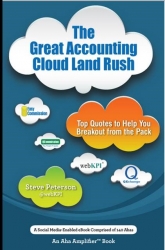 San Mateo, CA, December 17, 2014 --(
PR.com
)-- CellarStone and the THiNKaha teamed up to capture the highlights of the recently concluded Intuit conference called "QuickBooks Connect." Bringing together over 4,000 entrepreneurs, small business owners, accountants and developers, Intuit provided a robust environment for thought leaders to share their vision for the future of cloud accounting. Speakers at the conference included Intuit CEO Brad Smith, reality TV celebrities Bill and Giuliana Rancic, basketball legend and entrepreneur Earvin "Magic" Johnson, Martha Stewart, Arianna Huffington and Marc Andreessen.
The goal for the eBook was to capture the top 140 quotes from the event to be shared with the many attendees plus the thousands more that could not attend. The THiNKaha communication platform provides a unique communication template to quickly and effectively turn wisdom into shared knowledge.
THiNKaha introduced this year a new web application called the Aha Amplifier™. The Aha Amplifier helps you increase your influence by amplifying and activating quality "Aha" moments! Each Aha is sharable via Twitter, LinkedIn, Facebook, and Google+, so you can easily share an important idea, concept or statement with thousands (if not millions) of people.
The "The Great Accounting Cloud Land Rush" social media enabled eBook and the PDF version are both available for free at the following website link.
Click Link for Free eBook Resources
.
Author and Vice President of Marketing Steve Peterson noted the project came together very quickly. A decision was made just a few weeks before the event to produce this book and with the help of Heather Peterson and Jenilee Maniti, we were able to deliver the Aha Amplifier version within an amazing four weeks of the event. Mr. Peterson commented "The team and process were extremely effective which allowed us to quickly deliver valued content to our conference audience. The response to date has been tremendous with many of the released quotes being actively retweeted by the audience to their colleagues and connections."
About CellarStone Inc.
CellarStone is a premier solutions firm in the Sales Performance Management arena. CellarStone works with IT, Finance, Human Resources and Sales to manage and implement variable pay and sales commission systems. The CellarStone solutions have been successfully implemented for companies in many industries including: Retail, Banking, Staffing, Manufacturing, Consulting, Investment Management, Insurance, Mortgage and many others. For more information please visit CellarStone.com.
About THiNKaha
THiNKaha makes it easy to create compelling content that helps to turn corporate experts into recognized thought leaders. THiNKaha services include the Aha Amplifier, thought leadership interviews via Google Hangouts, creating content portals, book publishing, webinar publishing, social media, traditional media coaching and vetted referrals, thought leadership mentoring/coaching, and many other thought leadership services, including the creation and support of corporations' thought leadership blueprints.
Media Contacts:
CellarStone Inc.
Steve Peterson
1650 Borel Place #100
San Mateo, CA 94402
650-242-0008
CellarStone.com
THINKaha
Jenilee Maniti
20660 Stevens Creek Blvd., Suite 210
Cupertino, CA 95014
1-408-257-3000
THiNKaha.com
Contact
CellarStone Inc.
Joe Lindsey
(650) 242-0008
http://www.cellarstone.com
http://www.easy-commission.com
http://www.qcommission.com
http://www.qxchange.com

Contact