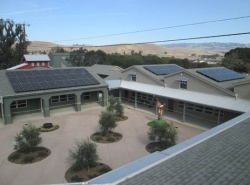 Novato, CA, December 18, 2014 --(
PR.com
)-- The system spans over 2,600 square feet on multiple building rooftops, which were specifically designed by local architect Dan Hardin to accommodate solar.
Enphase Energy, a Petaluma-based worldwide leader in microinverter technology, donated microinverters to the project. Enphase microinverters will optimize system performance by working individually with the system's 149 LG solar panels to ensure maximum energy production. Additionally, the project managed to secure one of the last California Solar Initiative rebates available before the program expired. The school will receive approximately $24,000 in rebates for energy produced by the project.
The solar electric system will provide about 70 percent of the school's annual electrical needs, powering the classrooms and administrative offices.
The system's solar electric panels are expected to generate approximately 66,000 kilowatt hours of clean energy annually. The new solar energy system allows Liberty School to generate enough electricity each day to power over 20 average homes. The amount of carbon offset by the PV array is equivalent to removing 29 tons of harmful greenhouse gases annually. Over the next 30 years, the air pollution saved will be equivalent to eliminating nearly than 1.7 million miles of driving or the amount roughly 9 acres of trees could remove.
About Liberty School
Liberty School, serving 214 pre-kindergarten through sixth grade students, is nestled in the rural, dairy ranching area of Petaluma, 50 miles north of San Francisco in Sonoma County. Founded in 1857, Liberty School is the oldest school in continuous operation at the same site, with the same name, in Sonoma County. More than just a school, Liberty is the hub of the community, where families meet neighbors and build relationships. Many families have been attending Liberty School for generations.
SolarCraft is one of the most trusted and experienced solar energy contractors in California. Since 1984, this certified Green Business has been providing high quality solar electrical, solar pool heating and solar water heating services to homeowners and businesses, employing licensed and certified solar installers. With more than 5,000 satisfied customers and over 2.5 million square feet of solar collectors installed, SolarCraft is committed to Quality Design, Quality Materials and Customer Service.
www.solarcraft.com