New Business Book Series for Everyday Communication Challenges
Three book series covers topics from simple public speaking to complex crisis communications.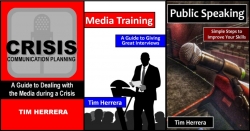 Sacramento, CA, December 21, 2014 --(
PR.com
)-- Many business executives struggle to communicate, both inside and outside their organizations. They are also often unsure of how to handle the media during both good times and bad times.
Business leaders often know that their need for stronger communication skills is holding them back, but they don't know where to turn for help. Author and communications expert, Tim Herrera has released a new series of three books designed to help executives become more effective communicators.
"Crisis Communication Planning: A Guide to Dealing with the Media during a Crisis" (ASIN: B00NS5KNEC/ISBN-10: 1502473240) offers readers practical advice on how to effectively manage the media and Yourself during a crisis. The book provides tips on how to prepare in order to meet the challenges and opportunities that arise during a crisis.
"Media Training: A Guide to Giving Great Interviews" (ASIN: B00MDX6SP8/ISBN-13:978-1500773809) will assist small business owners, local community leaders and nonprofit executives in developing and delivering messages to the media, messages that eventually reach the general public and stakeholders.
"Public Speaking: Simple Steps to Improve Your Skills" (ASIN: B00LR3DEC0/ISBN-10: 1500781932) is the perfect book for those who want to become strong and confident public speakers and presenters. This book offers methods and tactics designed to help people acknowledge their fears, address their weaknesses, and develop new communication skills.
In this series, Tim Herrera shares straightforward and valuable tips that are easy to execute. All three books are available on Amazon.com in both ebook and soft cover formats.
About the author
Tim Herrera is an award-winning author, college instructor and communications director for the Sacramento County Office of Education. He is a former television and radio news reporter and anchor, as well as a former newspaper columnist with more than 30 years of experience in media. He has earned numerous awards from the California School Public Relations Association (CalSPRA) and Northern California Publishers & Authors.
Contact
Tim Herrera, Author
Tim Herrera
916 952 7621
www.timherrera.com

Contact