Los Angeles Fine Art Photographer's Vibrant LA and OC Beach Images Scattered Among Hollywood's Stars and on Display at GBK's Golden Globes Celebrity Gift Lounge
Los Angeles Photographer Shannon Howard's internationally-selling photography will be on display and included in celebrity swag bags at GBK's exclusive 2015 Golden Globes celebrity luxury gift lounge in association with The Artisan Group®.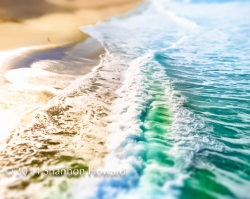 Los Angeles, CA, January 01, 2015 --(
PR.com
)-- Original, fine art photography from Los Angeles Photographer Shannon Howard (
http://www.etsy.com/shop/ShannonHowardPrints
), will be on display and in celebrity gift bags in association with The Artisan Group® at an invitation-only, Golden Globe Awards luxury celebrity gift lounge hosted by GBK Productions. The event will take place January 9-10 at an exclusive location in West Hollywood, California, in honor of The 2015 Golden Globes Nominees and Presenters. This event will also be attended by nearly fifty press and media outlets.
One of the LA photographer's most popular images, "Vibrant Shore," (pictured here) will be prominently featured on display at The Artisan Group's exhibit, and all attending celebrities will receive her "California Collection" fine art photography note cards in their swag bags. This collection features unique, colorful photographs ranging from bold and dramatic to delightfully retro and were primarily shot in Los Angeles and Orange County's beautiful beach cities.
When asked about the inspiration for her work, Shannon explained, "I really work to create serene and uplifting pieces for my clients' homes and businesses that will inspire a vibrant, positive lifestyle. It's my hope that when people visit my online shop, they feel instantly refreshed by what they see. My work is inspired by a love for the simple pleasures in life as I feel these are the moments that rejuvenate us the most amidst our fast-paced days. I've found that surrounding ourselves with vivid imagery that reminds us of simple experiences that make us happy, perhaps seeing the vibrant colors of a wave crashing on the shore or the joy of wine tasting, can really renew positive energy. We all lead busy lives and need a space in which to recharge. I strive to create pieces that refresh my clients' homes/businesses and encourage rejuvenation."
Shannon Howard's uplifting photography has been featured on the "Good Stuff" pages of Bust Magazine's June-July 2014 Issue, in GBK's 2013 and 2014 Primetime Emmy Awards Celebrity Gift Lounges, and mentioned in Greer's OC. Her photographs have sold extensively throughout the U.S., Canada, Europe, and Australia.
Shannon's collection of available prints include dramatic images of the California coast, surf lifestyle, wine-culture, and soothing botanicals. She also offers a popular line of soft, pretty photographs for children's spaces as well as a cozy cafe collection. Other wide-selling pieces in her shop include her fine-art photography canvases, home and fashion accessories, and stationary sets.
To learn more about about Shannon Howard Photography and its products, or its participation in this exclusive event, visit www.etsy.com/shop/ShannonHowardPrints, www.shannonhowardphotography.com, or email shannonhowardphotography@gmail.com.
Follow Shannon Howard Photography on Twitter (@SHowardPhotos) or become a fan on Facebook (Facebook.com/ShannonHowardPhotography).
For press inquiries regarding The Artisan Group, please visit www.theartisangroup.org or email press@theartisangroup.org.
Contact
Shannon Howard Photography
Shannon Howard
419-366-2774
etsy.com/shop/ShannonHowardPrints

Contact