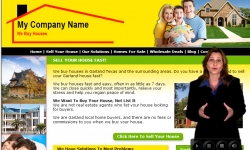 Dallas, TX, January 08, 2015 --(
PR.com
)-- A real estate investing company that also builds real estate investor websites, www.RealEstateInvestingWebsites.com has released an updated version of their websites that real estate investors can use to run their businesses as well as attract and convert leads to closed deals.
This release combines upgraded features that make running a real estate investing business easy, as well as features that attract leads and automatically follow up with them to convert them to closed real estate transactions.
Each website is run from a virtual back office that is so simple that any real estate investor can manage their business even if they have no computer expertise. The websites are delivered loaded with over 200 fully customizable designs that can be loaded with a single click. This means each real estate investor gets a unique website that is fully customized and branded to their business including the logo, if they have one. The front end is completely free of maintenance.
The real estate investor also has full control of the content and forms that collect any information that they need. Any information collected is logged into the back office, and also sent by email.
The websites are also delivered well optimized for such engines, which also includes a well optimized wordpress blog so that real estate investors can post fresh content from time to time. This means that the websites are equipped to attract leads automatically through the search engines.
Once a visitor lands on the website, the inbuilt marketing features take over to convert them to closed real estate deals. This includes a friendly, life-like speaking model that provides a warm welcome and compels visitors to complete a call to action activity, such as sign up for an Ebook.
The website then takes over with automated, carefully timed follow-up email messages that are created to convert them to people that actually close real estate deals.
A real estate investor can order a website and have it ready for business within one hour.
For more information, please visit
www.RealEstateInvestingWebsites.com
or call 214-227-8718.