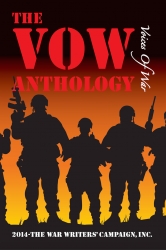 Denver, CO, January 12, 2015 --(
PR.com
)-- The first annual VOW Anthology: Voices of War 2014 will be published by The War Writers' Campaign later this year. An annual publication compiled of authors looking to give something back to their communities. It's a collection highlighting their stories, their words, and an exemplification of their honor to the men and women who've served and their families. The War Writers' Campaign is a literary nonprofit with the mission of generating social change for veterans and their families through written awareness. This book is one of many to come from The War Writers' Campaign a nonprofit publisher that aims to support veteran and family member programs. 100% of all proceeds, beyond a royalty to the authors, is utilized for transformative transitional programs that promote storytelling in our community.
About the Authors
· Amanda Cerreto is the author of several nonfiction pieces as well as a young adult novel, Fall From Grace. She was raised in a military family and has spent much of her free time involved with veterans' advocacy.
· Richard lives in Western New York, where he works as a writer. After six years in the US Navy (1999-2005) he held a series of odd jobs, to include fixing bowling machines and working in an oil terminal. He has a wife, Maria, a daughter, Rachelle, and a dog, two cats, and a hamster. In his spare time he enjoys playing video games, trying new varieties of rye whiskey, lifting weights, and explaining to various house pets why they can't eat what he is eating.
· Amber Flenner (Fluck) is a writer and photographer based outside of Carlisle, Pa. Her educational background is in Communications/Journalism with a concentration in Middle Eastern Studies. She graduated cum laude from Shippensburg University in December of 2011. As a member of the Pennsylvania Army National Guard, Amber has deployed to Iraq twice: once from 20052006 and again in 2009. During her first deployment, she was part of one of the first ever "lioness" teams established to complete searches on females coming in and out of Baghdad, Iraq. While deployed, Amber had a regular column in her local paper. She is now a Public Affairs Specialist in the 109th Mobile Public Affairs Detachment, located at Fort Indiantown Gap, Pa. Her position allows her to tell the stories of Pennsylvania's National Guard members through stories and photographs. Other work by Amber can be found at http://www.amberfluck.com/.
· Abby Lang is the mother of a Marine veteran who completed three deployments to Iraq as an infantryman between 2003 and 2005. Abby lives with her husband Tim and works as a grant writer. She found Zen meditation toward the end of her son's military service and has been practicing ever since. She contributes to the blog Death and Design (www.deathanddesign.com) and volunteers on the Hospice/Palliative Care wing of the Philadelphia VA Medical Center.
· Michael Lund, Army correspondent (Fort Campbell, Kentucky, 1969-70; Vietnam, 1970-71), is the author of one short story collection, How to Not Tell a War Story (2012), a second, Eating with Veterans (due out early in 2015), and novels such as Route 66 Looking-glass (2014), Route 66 to Vietnam: a Draftee's Story (2004) and Growing Up on Route 66 (1999). More information can be found on his website: At Home and Away Novel Series http://athomeandawaynovelseries.com.
· Meador joined the Army in 2002 and, after training to become a combat medic, he immediately became part of the invasion of Baghdad in 2003 with the Third Infantry Division. He returned to Iraq in 2005, and again in 2008. In 2009 Kenneth began treatment for PTSD and has spoken publicly about his struggles with his memories of his time in Iraq and encourages other veterans to get the help they need.
· Matthew Overton was born in Sterling, Illinois and raised in Sycamore, Illinois for most of his life. The attacks of 9/11 happened during Matthew's senior year of 2001, and in the summer of 2002 he chose a route different than most he joined the Army. Matthew served with 10th Mountain's 187 Infantry Battalion out of Ft. Drum, New York until 2006. Matthew's first deployment was in 2003.
· Glenn Petersen served in the US Navy from 1964 to 1968. In 196667 Glenn flew 70 combat missions as an enlisted radar intercept controller/flight technician in E1B reconnaissance aircraft off the USS Bennington in the Tonkin Gulf. Glenn had a 10th grade education when he enlisted a few weeks after his 17th birthday. Following the war Glenn earned his GED, a bachelor's degree, and a PhD in anthropology. He has been a professor of anthropology and international affairs for nearly 40 years now.
· J. Howard Shannon is a writer and US Army Infantry Officer with over 25 Years of service. He served two tours in Afghanistan the first in 2005 with 3rd Group Special Forces and again in 2008 with the New York Army National Guard. He currently volunteers as an Assistant Instructor with Horses For Heroes, a wellness and skill set restructuring program for OIF and OEF combat veterans. He has just completed a novel, set in Afghanistan, that challenges the conventional notions of modern combat.
· Matthew Snider served with the 1st Battalion, 22nd Infantry, 4th Infantry Division as a combat medic for Delta Company (Armor). Matt deployed in 2006 to Iraq, earning an ARCOM w/Valor and Combat Medic Badge. He served from 20042009 before being medically retired. Matt Lives in Buckley, Michigan with wife Stephanie and two dogs, Roxy and Sammy. Follow Matt @ http://www.mcsniderwriting.com/.
Media Contact: Ryan Weemer
Email: ryan@warwriterscampaign.org
Phone: 3478750091
Web: WarWritersCampaign.org
Review Copies and Interviews Available.