Author, Speaker and 400+ Weight Loss Champion Val McLeod to be Keynote Speaker at eXfuze Transformations 2015 in Miami FL, January 24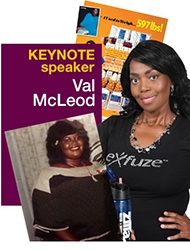 Miami, FL, January 15, 2015 --(
PR.com
)-- eXfuze, a global leader in health and wellness products, will host their 2015 Regional Conference in Miami, on January 24, with a theme of Transformations. To go along with the theme, eXfuze will be introducing a brand new "4 in 4 Transformations Pack" and Program, complete with product, tools, education, coaching and an exercise program.
"4 in 4 is like no other program out there, mainly because it revolves around inches lost, not lbs.," said Renee Page, VP of Branding and Marketing and Brainchild of the Transformation Pak. "It is our goal, our hope, that with this Transformation Pak, along with the corresponding educational and training materials, the no excuses full body workout, and weekly coaching sessions, our customers and distributors will finally have a permanent answer to a temporary problem," added Renee.
"We want people to think differently about weight loss from this point on. It's no longer about pounds, or what the scale tells you; it's about inches lost from week to week, and month to month," said CEO Don Cotton.
"At eXfuze we believe in our products and we think that eXfuze has one of the most innovative and certainly one of the richest compensation plans in the Direct Selling and Network Marketing Industry. At the Transformations 2015 Regional in Miami, we are going to make our direct sales/customer model, even better. For those who want to focus on customer acquisition, we have created new bonuses and recognition and I cannot wait to share it everyone on January 24th," said Don.
Keynote Speaker and Brand Awareness Ambassador for eXfuze is no other than Val McLeod, featured in 2014 People Magazine's most popular issue, "Half Their Size," and an exclusive feature segments on ABC's Good Morning America, CNN, Fox and many other television, radio and print media outlets which focused on her amazing 400+ weight loss journey.
"Val has been an inspiration to me and I am sure she will be for everyone in attendance as well, said Don Cotton. "This lovely lady has overcome so much to lose over 400 pounds. Her accomplishment is amazing, but as she says, she is not done yet. And eXfuze is going to help her get to her goal. She is a great motivator and a spiritual person with a heart of gold. If you know anyone struggling to overcome any life obstacle, bring them, let them hear and meet Val, you may change their life," added Don.
Val's will cover a myriad of topics at the event, and will continue to offer weekly coaching sessions in:
Success & Goal Attainment
Personal Awareness, Accountability & Responsibility
Relationship & Conflict Management
Overcoming Obstacles and Creating Opportunities
Leadership and Consensus Building
"To say that I am overwhelmed at the love and compassion of the Corporate staff of eXfuze would be a complete understatement. They have put their trust in me…Val McLeod…someone who has struggled the battle of the bulge for over 25 years; and yet they know, as I do, that I am absolutely not the same person since taking eXfuze products. They have literally transformed my thinking, my waistline and my attitude towards myself. I no longer condemn myself for falling off my meal plan, but instead, have the knowledge and power to shake the shame, get back up, and move forward towards my goal of releasing another 60+ lbs," said Val.
"I am writing a new book, How I Transformed My Life With eXfuze Products in 180 days, and trust me, it will not only be an international best seller, it will change people's lives forever! And I am humbled and so very honored, that the Lord would trust me with such a mission," said Val.
In addition to Val McLeod, eXfuze will have author, corporate trainer, and health and wellness enthusiast Randy Friedman speak about The Athletic Mindset.
"As an athlete for most of my life, I've had to adapt and overcome challenges to become a 'winner' on and off the field," said Randy Friedman. That 'winning mindset' is The Athletic Mindset; it's a results-way of thinking. Whomever attends the eXfuze Regional Event in Miami is in store for big transformations… hang on for the ride, exciting times ahead!"
Framing the day will be Don Cotton, along with Rick Cotton, Co-Founder of eXfuze, who will explain the mission and vision behind exfuze, as well as launch a new program, "Crusaders For Kids."
"Our mission is to change lives…one person, one community at a time. Our new One For One program will allow customers and distributors to partner with us so we (eXfuze) can provide nourishment to a child living in an orphanage in Mexico, with a month supply of Seven+, our multi botanical liquid extract product," added Rick.
"This goes to the heart of eXfuze. You see, even before the beginning of eXfuze, we had a heart for children and have provided for hundreds of children monthly, through our Viva Kids Program. This new program will nourish thousands of orphans around the world. It is the core of who are as a company, and in Miami, we will take it to yet another level."
Tickets for this event are only $29 per person. For more information, or to register, visit
www.exfuze.com
or call Donna Gelin at 561-899-0117561-899-0117
About eXfuze:
eXfuze, LLC develops and markets premium phytonutritional products for optimum health and longevity. Headquartered in Palm Beach Gardens, Florida, eXfuze was founded in 2007 by brothers Rick and Don Cotton and today, is a global company, serving 11 international markets. eXfuze products include Seven + TM Classic, Seven + TM PROformance, Seven +TM Premium Focus, ShapeWay TM Nutritional Shake, ShapeWay TM Metabolic Capsules, Green Zilla2O TM, and their newest product, Summa Café, a patent-pending liquid coffee…delivered instantly. For more information about eXfuze, visit www.exfuze.com.; www.facebook.com/exfuze7; www.youtube.com/wexbn
If you would like more information about this topic, please contact Renee Page at Vice President, Branding and Marketing or email at rpage@exfuze.net.
For more information on Val McLeod, please visit her website: www.ValMcLeod.com. Contact her at info@ValMcLeod.com and you can follow her on Facebook fan page: https://www.facebook.com/valmcleod
Contact
eXfuze
Renee Page
772-584-4203
www.exfuze.com

Contact
Multimedia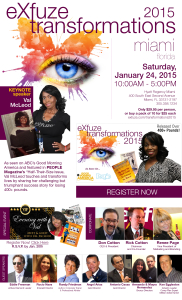 Val McLeod, weight loss champion who lost over 400 lbs, returns to her home town of Miami, January 24