LED Gas Station Canopy Light from LGI Technology
Introducing the all new C Series LED Gas Station Canopy Light from LGI Technology in variety of wattage options.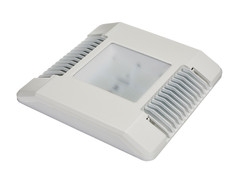 San Fernando, CA, January 20, 2015 --(
PR.com
)-- LGI Technology proudly announces the launch of its new C Series LED Gas Station Canopy Fixture.
The C Series LED Gas station canopy light is the latest addition to the Los Angeles-based, commercial-grade LED manufacturer's LED Fixture line up.
"This new addition completes our petroleum canopy fixture line," Product Manager Rob Setian said. "This family can easily replace any HID canopy lights, save energy, and brighten any service station."
The C Series Fixture is equipped with Osram LEDs and is available in three wattage options. The 60 watt produces 6000 lumens; the 100watt, 10000 lumens; and the 130 watt, 13000 lumens.
The C-Series Fixture is powered by an industry Mean Well driver and is covered by a five-year warranty. Heat dissipation is not a concern since the entire aluminum housing is also the heat sink. The open design helps to strip away heat, keeping the fixture thermally cool.
Installation is easy since this fixture can be surface mounted or suspended. More details and product data sheet are available at www.lgitek.com/
The C-Series Fixture ships from LGI's USA facility and is available in 5500K.
For more information on where to purchase the products or to become a distributor, please contact LGI Technology at: info@lgitek.com or (877) 221-8182.
About LGI Technology
LGI Tech is a major solid-state lighting development and manufacturing company based in Southern California. The company specializes in retrofit lighting for the commercial market, offering a comprehensive line of LED lighting solutions. LGI Technology is fully integrated with strong R&D capabilities to consistently offer the latest technology available. For more information on LGI Tech, please visit www.lgitek.com. For all of the latest updates, follow LGI Technology on Twitter, LinkedIn, Facebook, YouTube, and Instagram.
Contact:
Rob Setian – LGI Technolgoy
+1-877-221-8182
E-mail:info@lgitek.com
Web site:
www.lgitek.com
Contact
LGI Technology
Robert Setian
(877) 221-8182
www.lgitek.com

Contact