Celebrity Chef, TV Presenter and Cancer Survivor Hamlet Garcia Received the Ultimate Hair Makeover by Dr. Roy B. Stoller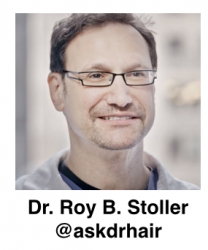 New York, NY, January 27, 2015 --(
PR.com
)-- Dr. Roy B. Stoller (www.roystoller.com), Board Certified Facial Plastic Surgeon, used a special technique and Artas Robot to give celebrity chef and cancer survivor Hamlet Garcia a total hair transformation.
The process began with Dr. Roy B. Stoller scanning Hamlet Garcia's entire head for precise measurement for the hair implants. The more than 6 hour procedure with the Artas Robot was performed by Dr. Roy B. Stoller and his staff.
Dr. Roy B. Stoller is an icon in the hair industry and worldwide lecturer. With over 5,000 hair transplants under his belt, Dr. Roy B. Stoller uses one of only four Artas Robots currently in New York City to perform transplants. Dr. Roy B. Stoller is the only Board Certified Facial Plastic Surgeon in New York City that operates with this cutting edge and state of the technology. Something unique about this technique is that the Artas Robot uses computer animated technology during surgery. Unlike prior 'hair plug' surgery, this procedure leaves no linear scarring and growth time is 6-9 months.
The Artas Robot, www.artashair.com
The patient this time is Latin Celebrity Chef and TV presenter Hamlet Garcia. As a young child, Chef Hamlet suffered through obesity and was diagnosed with cancer in 2010. Committed to improving his health and overall well-being, Chef Hamlet embarked on a personal journey of recovery through a regimen of exercise and healthy eating habits. Being a celebrity himself he is always wanting to look his best. Because his hair loss due to the cancer treatments he received, the makeover that Dr. Roy B. Stoller will perform will give him the abundance of hair he's always wanted. Men shouldn't feel embarrassed to have work done to look and feel better. And that is why Dr. Roy B. Stoller is so popular and well known amongst men, who come from all over the world to get his treatments.
Follow Dr. Roy B. Stoller on Twitter @askdrhair and Hamlet Garcia @chefhamletg
For Media Inquiries or to request more photos and/or b-roll please contact:
Aida Phillips at Aida@AidaPhillipsPR.com or call 305.785.6039.
Contact
Dr. Roy B. Stoller
Aida Phillips PR
305-785-6039
roystoller.com

Contact