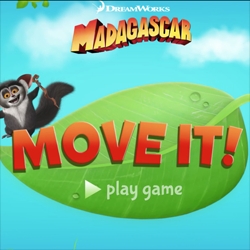 Auckland, New Zealand, January 27, 2015 --(
PR.com
)-- Umajin Ltd., today announced it has shipped the DreamWorks Madagascar MoveIt! App it created in partnership with Intel, to showcase the new RealSense Technology. The app was previewed at the Consumer Electronics Show (CES) in Las Vegas this month.
The Madagascar MoveIt! App is a fun family game that requires you to match King Julian's dance challenges. During the game the camera tracks a player's hands and match them against the moves that King Julian is making on the computer screen. The closer you are able to match his moves the higher the score you are awarded.
The MoveIt! App works on Windows 8/10 devices equipped with the Intel® RealSense™ Technology. RealSense features full 1080p color and a best-in-class depth sensor, giving PCs and tablets 3D vision for new, immersive experiences. It is the first integrated camera that sees more like we do, so it can understand and respond to natural movement in three dimensions.
Umajin's app publishing platform, Umajin App Creator, integrates the RealSense Technology, allowing companies to create cool, interactive experiences that work more intuitively with facial recognition, 10-finger gesture recognition, emotion tracking, 3D scanning, and background extraction. This translates to some really cool experiences, not only can users can navigate apps 'hands-free' but apps can infer expressions, interpret brand sentiment and share content based on what you look like!
"Adding Intel RealSense™ 3D camera support to our platform empowers the next generation of natural, immersive, and intuitive apps. These apps can include hand and finger tracking, facial analysis, speech recognition, augmented reality, and emotion logging." -David Brebner, CEO, Umajin Ltd.
The app https://www.youtube.com/watch?v=0t_1h5TnzIc#t=21
The making of the app https://www.youtube.com/watch?v=fnXrj5fFzp4
Intel RealSense App Showcase https://appshowcase.intel.com/en-us/realsense/product/8448/move-it!
About Umajin
Umajin delivers the first code-free, native app publishing platform for designers. Powered by a robust gaming engine, its professional editor and pre-built device features enables companies to rapidly create stunning, interactive apps, without IT resources. Umajin's build-once and run across iOS, Android, Blackberry and Windows devices, coupled with their ability to publish to app stores or to private devices makes it easier and faster than ever to engage customers on the go.