Celebrate Football in Style at One of Arizona's Best Seafood and Steakhouses, Arrowhead Grill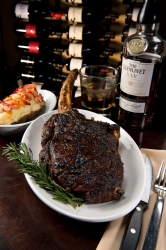 Glendale, AZ, January 28, 2015 --(
PR.com
)-- Arrowhead Grill invites football fans in Arizona for the Big Game to a West Valley dining experience unlike any other.
Arrowhead Grill steakhouse, a darling of the local dining scene, offers a high-end bar dining experience, outdoor dining perfect for enjoying Arizona's sunny winter weather, and stylish dinner dining that has earned the local restaurant the reputation of being one of the Valley's very best steak and seafood dining destinations.
"Our casual, upscale dining experience offers a great destination for football fans who want to make the most of their celebrations," said Chef Charles Schwerd. "With our amazing menu of signature steaks and seafood, our handcraft beer selection, amazing mixed drinks and our extensive wine list, it's the perfect place to celebrate."
Guests will enjoy Chef Schwerd's famous dishes, including his Delmonico Steak and 32-ounce Tomahawk Steak, and seafood choices like Maine Lobster Tail, Merus King Crab Legs and Alaskan Halibut.
Dessert options include Arrowhead Grill's Signature Butter Cake, Classic Cheesecake, and its Giant Butter Cake Cupcake, which serves up to six people.
Arrowhead Grill has been honored with Phoenix Magazine's Best of the Valley Reader's Choice Awards for Best Steakhouse and Best Dessert, and Wine Spectator's Award of Excellence for 2014 in recognition of the restaurant's success in offering a wide variety of exceptional wines that create complementary pairings with the restaurant's fine steak and seafood menu.
Arrowhead Grill is located at 8280 W. Union Hills Dr. (Loop 101 and Union Hills) in the West Valley. To make a reservation or for more information, call (623) 566-2224 or visit
www.arrowheadgrill.com/reservations
.
To get the latest news about Arrowhead Grill's daily specials, follow on Twitter at www.twitter.com/arrowheadgrill and Facebook at
www.facebook.com/arrowheadgrill
.
Known as one of the Valley's best steakhouses, Arrowhead Grill is located at 8280 W. Union Hills Dr. (Loop 101 and Union Hills) in Glendale.
About Arrowhead Grill
Established in 2008 by renowned Valley chef Charles Wade Schwerd, Arrowhead Grill epitomizes Schwerd's two decades of steakhouse experience, offering Valley residents a diverse menu of top quality steak and seafood. Featuring all natural meats and fresh, mercury-free seafood selected especially for Arrowhead Grill, the Glendale-based restaurant offers something for everyone in a setting that's unpretentious yet sophisticated. For more information, please visit www.arrowheadgrill.com.
Contact
Arrowhead Grill
Christy Stevens
480-648-1770
www.arrowheadgrill.com

Contact