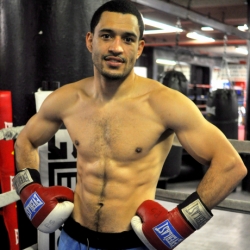 New York, NY, January 31, 2015 --(
PR.com
)-- Cepeda scores impressive win! Middleweight Jonathan Cepeda, 16-1 with an 88% KO record, defeated veteran Jonathan Reid, 35-17 at Club Label in Charlotte NC this past Tuesday evening, 1/27. Cepeda dominated the bout from the opening bell. He repeatedly cut the ring off and bombarded Reid with a wide variety of combination punches. At the end of the second round, the referee asked Reid if he wanted to continue and gamely Reid said yes. As soon as the 3rd round bell rang, Cepeda began pounding Reid from all angles in a neutral corner. Quickly the referee decided he had seen more than enough and stopped the bout only 17 seconds into the 3rd round.
"I was very pleased with my patience and calmness. I fought a smart fight and did not go for the one punch KO, but instead used relentless combinations from the beginning. I give credit to Reid who came to fight, but I overwhelmed him from the start," said Cepeda at the conclusion of the fight.
Cepeda's Manager Greg Adams, General Partner of Kran Sports and Entertainment Management, said that, "Cepeda has always been a great puncher, but he is fast becoming an excellent ring general. When he first started his professional career, Cepeda was a very good butcher, now he is learning how to be a very skilled surgeon. If he continues to improve, he will be World Champion soon!"